M. Truitt Cooper, MD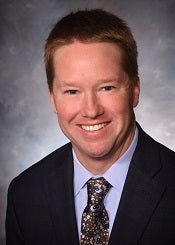 Dr. Truitt Cooper is an Associate Professor of Orthopaedic Surgery at the University of Virginia, and Director for the Foot and Ankle Surgery Fellowship program. He also serves as the Medical Director for the ambulatory orthopaedic clinics. Dr. Cooper grew up on the east coast of Florida and attended college at Washington and Lee University. He completed his M.D. at the University of Virginia, and his Orthopaedic Surgery residency at The Ohio State University. Following residency, Dr. Cooper took subspecialty training in Foot and Ankle Surgery with Dr. Michael J. Coughlin in Boise, Idaho. After several years in Private Practice in Richmond, Virginia, Dr. Cooper made the decision to return to the University of Virginia to pursue a career in academics. He joined the faculty in 2014.
Dr. Cooper is an active member of the American Orthopaedic Foot and Ankle Society (AOFAS). He currently serves as the Vice Chair of the Physician Resource Committee and has served on the post-graduate education committee. He serves as an editor for Foot and Ankle Specialist and as a reviewer for Foot and Ankle International.
In addition to maintaining an active clinical practice focusing specifically on foot and ankle reconstruction, Dr. Cooper has numerous research interests. These include total ankle arthroplasty, midfoot injuries, and arthrodesis healing. He is currently involved in multi-center clinical trials involving total ankle replacement and bone graft substitutes for foot and ankle fusion procedures.
Beyond Orthopaedics
"Dr. Cooper is married with three children that keep him and his wife very busy. He enjoys most outdoor activities including mountain biking and trail running."
Contact
Office Location:
UVA Orthopaedic Center
2280 Ivy Road
Charlottesville, VA 22903
Mailing Address:
Dept. Orthopaedic Surgery
University of Virginia
PO Box 800159
Charlottesville, VA 22908
Clinical Office Phone:
434.924.2663
Administrative Office Phone:
434.243.0067
Office Fax:
434.244.4454
Appointments
Associate Professor of Orthopaedic Surgery, University of Virginia
Medical Director, Ambulatory Orthopaedic Clinics, University of Virginia
Specialty and Subspecialty
Specialty: Orthopaedic Surgery
Subspecialty: Foot and Ankle Surgery
Education
Education: B.S., Washington and Lee University
M.D., University of Virginia
Residency: Orthopaedic Surgery, The Ohio State University
Fellowship: Foot and Ankle Surgery, The Coughlin Clinic, Boise, Idaho
Special Expertise
Comprehensive foot and ankle care, including treatment of deformities, arthritic conditions, traumatic and sports related injuries.
Foot and Ankle Reconstruction
Research
Total Ankle Arthroplasty
Midfoot Injuries
Arthrodesis Healing
Awards
Best Doctors In America® (2019)
Certification and Licensure
Board Certified in Orthopaedic Surgery, American Board of Orthopaedic Surgeons
Licensed to practice in Virginia
Recent Publications
Davidson A, Rusing CJ, Casale MJ, Cooper MT, Brigido SA. "Focus on Fellows." Foot Ankle Spec. 2020 Feb;13(1):54-57. doi: 10.1177/1938640020906311. No abstract available. PMID 32075444
Mangone P, Bitterman A, Brigido SA, Cooper MT. "Both the Benefits and Disadvantages of Minimally Invasive Surgery." Foot Ankle Spec. 2019 Dec;12(6):546-548. doi: 10.1177/1938640019893404. No abstract available. PMID 31835928
Jastifer J, Manson W, Smith B, Cooper MT, Brigido SA. "Perioperative Management of Foot and Ankle Surgical Patients." Foot Ankle Spec. 2019 Oct;12(5):458-460. doi: 10.1177/1938640019880685. No abstract available. PMID 31604397
Lee W, Tran S, Cooper MT, Park JS, Perumal V. "Clinical Outcomes of Osteochondral Lesions of the Tibial Plafond Following Arthroscopic Microfracture." Foot Ankle Int. 2019 Sep;40(9):1018-1024. doi: 10.1177/1071100719850145. Epub 2019 May 26. PMID 31130008
Rudolph J, Scott RT, Galli M, Brigido SA, Cooper MT. "All Things Syndesmosis." Foot Ankle Spec. 2019 Aug;12(4):370-372. doi: 10.1177/1938640019875563. No abstract available. PMID 31526088
Doty J, Phisitkul P, Xiao W, Cooper MT, Brigido SA. "Update on Acute Achilles Tendon Injuries." Foot Ankle Spec. 2019 Jun;12(3):278-280. doi: 10.1177/1938640019856804. No abstract available. PMID 31284756
Tran SK, Carr JB, Hall MJ, Park JS, Cooper MT. "Incidence of Thyroid Disease in Patients With Forefoot Deformity." Foot Ankle Surg. 2019 May 30. pii: S1268-7731(19)30076-1. doi: 10.1016/j.fas.2019.05.014. [Epub ahead of print]. PMID 31186135
Carpenter B, Thomas J, Brigido SA, Cooper MT. "Tibio-Talar-Calcaneal Fusion in the Diabetic and Nondiabetic Patient: An Update on Surgical Techniques." Foot Ankle Spec. 2019 Apr;12(2):172-174. doi: 10.1177/1938640019846669. No abstract available. PMID 31062624
Powell B, Reb CW, Summers NJ, Cooper MT, Brigido SA. "Negotiating Your Practice, the Early Years." Foot Ankle Spec. 2019 Feb;12(1):69-72. doi: 10.1177/1938640019830814. No abstract available. PMID 30747006