Charles A. Su, MD, PhD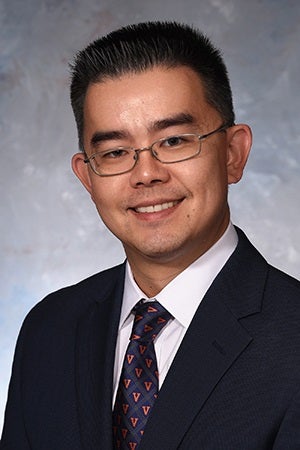 Charles A. Su, MD, PhD, is an orthopedic sports medicine surgeon who cares for a wide range of active individuals and athletes. He specializes in hip, shoulder, and knee surgery and serves as the team physician for James Madison University athletics and Monticello High School. Dr. Su graduated summa cum laude with honors from Case Western Reserve University with a B.S. in biology, B.A. in psychology, and a minor in chemistry. During his undergraduate years, he received a Howard Hughes medical institute research grant for his work in hematology. After college, he was accepted into the combined MD/PhD Medical Scientist Training Program at Case Western. Here, he completed his PhD thesis in transplantation immunology at the Cleveland Clinic. He performed cardiac transplants in a mouse model and evaluated methods to prolong graft survival. He was recognized for this work with a Young Investigator Award from the American Transplant Congress. Following residency, Dr. Su completed his orthopedic sports fellowship training at the world-renowned Steadman Clinic/Steadman Philippon Research Institute in Vail, Colorado. There he was able to provide care for the United States Olympic Ski and Snowboard team and train with some of the top thought leaders in orthopedic sports.
During his fellowship year, he also won the top Clinical Science Fellow Award for outstanding research as well as the Outstanding Fellow Teaching Award. His current research interests include clinical outcomes, biologic therapies, and the natural history of hip impingement and development of osteoarthritis.
Contact
Office Location:
UVA Orthopaedic Center
2280 Ivy Road
Charlottesville, VA 22903
Mailing Address:
Dept. Orthopaedic Surgery
University of Virginia
PO Box 800159
Charlottesville, VA 22908
Clinical Office Phone:
434.924.2663
Administrative Office Phone:
434.243.0238
Office Fax:
434.244.4454
Apppointments
Assistant Professor, University of Virginia
Specialty and Subspecialty
Specialty: Orthopaedic Surgery
Subspecialty: Sports Medicine
Education
Primary: Case Western Reserve University
Residency: Case Western Reserve University
Fellowships: The Steadman Clinic