Shawn Russell, PhD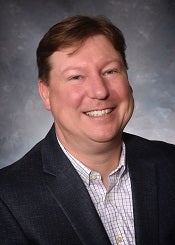 Shawn D. Russell, PhD, was born in Omaha Nebraska, as the son of a military family he has lived all over, Texas, Hawaii, New York, and Virginia. After graduating from Hampton Roads Academy, he attended Virginia Tech, where he graduated with a B.S. in Mechanical Engineering, and a B.S. in Engineering Science and Mechanics. After graduation he enrolled in graduate school at the University of Virginia where he earned a M.S. in Biomedical Engineering, and a PhD in Mechanical Engineering.
He is currently the director of the Motion Analysis and Motor Performance Laboratory at the University of Virginia, oversees the day to day research operations of the laboratory and guides data collection and analysis. He has been conducting research using motion analysis for the last 18 years. This work has included the detection of motion events and the quantification of the kinetics and kinematics associated with tasks including; simple typically developed walking, pathological walking with and without assistive devices, scaling rock climbing walls, and predictive modeling of human movements. In addition his work is developing methods for detection, measure, and recognition of human movement in out of lab environments using state of the art IMU technology. More recently he has begun developing models and methods for the analysis of gait function in Lewis rats used in preclinical trials. These methods have enabled him to begin quantifying the effects of musculoskeletal injury and applied therapeutics on the movement function quality of their gait characteristics.
Beyond Orthopaedics
"In his free time he enjoys spending time with his wife, Heather and his two boys Dylan and Ethan. He also enjoys whitewater kayaking and teaching adaptive skiing with Wintergreen Adaptive Sports."
Contact
Office Location:
UVA Orthopaedic Center
2280 Ivy Road
Charlottesville, VA 22903
Mailing Address:
Dept. Orthopaedic Surgery
University of Virginia
P.O. Box 800159
Charlottesville, VA 22908
Clinical Office Phone:
434.924.2663
Office Fax:
434.244.4454
Appointments
Associate Professor of Orthopaedic Surgery
Mechanical Engineering, and Biomedical Engineering
Honors and Awards
Journal of Biomechanics Highlighted Article
Dooley E, Carr J, Carson E, Russell S*. 2019. The Effects of Knee Support on the Sagittal Lower-Body Joint Kinematics and Kinetics of Deep Squats Journal of Biomechanics. Journal of Biomechanics, 82: 164-170.
Research Interests
The main focus of Dr. Russell's research has been the effect of neuromusculoskeletal pathologies on movement function as related to quality, coordination, efficiency, and stability. Understanding how pathology affects movement informs the development and optimization of interventions; surgical, therapeutic, and mechanical, to optimize movement in patients with neuromusculoskeletal pathology.
This interest initially focused on the gait patterns of children with cerebral palsy but has expanded to include the gait of adults, upper extremity movement, and rock climbing. We have also developed preclinical animal models to study how traumatic or surgically related volumetric muscle loss effects normal gait patterns, and how various novel techniques for muscle regeneration and implantation influence functional recovery.
As an engineer with a primary appointment in Orthopaedic Surgery, Dr. Russell has the opportunity through the course of his research to collect experimental movement data on patients in the clinical settings, develop novel instrumentation to measure how patients function with assistive devices within their environment, and develop computational multibody dynamic models to calculate the in vivo parameters we are not able to directly measure.
Current Projects
Intelligent and Adaptive Control Applied to Powered Walkers
• Goal: Develop "smart" powered electric walker for support of CP gait. This project was initiated for the development of an advanced control and computer learning strategy that will intelligently drive a walker for people with neuromuscular walking disabilities. The aim of the control strategy is to provide powered assistance that optimally reduces the metabolic cost of walking while maintaining the additional balance of a typical walker. The overarching goal of the project is to reduce the workload of walking, keeping this population walking longer, providing critical exercise, continued muscle development, and improved quality of life.
The Effects of Arthroplasty and Arthrodesis on the Mobility, Stability, and Efficiency of Typical Ambulatory Activities
• Goal: Identify changes in foot range of motion with ankle fusion and replacement. This project is designed to quantify the effects of changes in ankle mobility due to arthroplasty and arthrodesis on the range of motion of the foot. We are developing a multisegmented foot model to quantify the changes in motion of the ankle and foot as well as the quality, stability, and efficiency of normal walking patterns. In addition, we are examining higher order movements such as climbing stairs and walking on a lateral incline (side hill). These methods will form a basis for testing future ankle replacement devices as well as a database for later comparative research.
Innovative Strategies for Neuromuscular Regeneration and Rehabilitation of Volumetric Muscle Loss (VML) Injuries Resulting from Polytrauma
• Goal: Develop state of the art VML therapeutics and measure their effects on functional returns. The overall objective of this study is to develop and test novel improved regenerative therapeutics for wounded warriors with polytraumatic VML injuries. This is a collaboration requiring expertise in biologically relevant animal models of nerve and VML injury and repair, muscle physiology, biomaterials, bioreactor design, imaging and computational/predictive modeling. We are developing computational movement analysis modes of Lewis rats to evaluate functional recovery from nerve damage and/or VML injury in rat TA (tibialis anterior) and GN (gastrocnemius) muscles.
Evaluation of Gait Recovery and Energy Expenditure Following Decompression and Stabilization for Cervical Spondylotic Myelotpathy
• This study is designed to characterize how gait and energy expenditure evolve during the first six months following decompressive surgery and stabilization in patients with Nurick grade 2 or 3 cervical spondylotic myelopathy. Cervical myelopathy causes significant functional deficits, including gait disturbances. There have been multiple studies that have characterized these disturbances and how gait improves following decompressive surgery. However, in this population, gait and energy expenditure during normal walking is not well characterized and could influence future therapy and rehabilitation. This study is focusing on the quality, stability both static and dynamic, and efficiency of gait patterns and how they change pre and post decompression surgery.
Femur Nailing Gait Study
• This is an Orthopedic resident research project we are supporting. The aim is to determine differences in gait kinematics and kinetics for individuals receiving either a retrograde or antegrade nailing of a femoral fracture. These repairs disrupt different muscle groups and the study is monitoring differing compensation strategies required for temporary weakness in the gluteus or quadriceps. Initial pilot study has demonstrated significant deviation from normal for retrograde repairs.