Anuj Singla, MD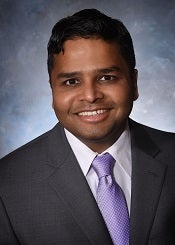 Dr. Singla is an Orthopaedic Spine Surgeon with fellowship training in combined Orthopaedics and Neurosurgical Spine surgery at University of Virginia. He was also fellowship trained in Pediatric spine surgery at LSU, New Orleans and Shriner's Hospital, Philadelphia.
Beyond Orthopaedics
"In my free time, I like to spend time with my wife and my 3 year old daughter."
Appointments
Associate Professor of Orthopaedic Surgery
Contact
Office Location:
400 Ray C. Hunt Drive
Charlottesville, VA 22908 
Mailing Address:
Dept Orthopaedic Surgery
Box 800159 HSC
Charlottesville, VA 22908
Office Phone: 434.982.4215
Office Fax: 434.243.0242
Specialty and Subspecialty
Specialty: Orthopaedic Surgery
Subspecialty: Spine
Special Expertise
Spinal deformities and scoliosis
Early onset scoliosis
Spinal stenosis and degenerative spinal disease
Awards
B Braun Award for Best Orthopaedic Resident- National award
Education
Education: Government Medical College, Nagpur, India (M.D.)
Residency: KEM Hospital, Mumbai, India
Fellowship: University of Virginia
LSU Health Science Center
Shriner's Hospital, Philadelphia
Research
Fusionless techniques for correction of scoliosis and spinal deformities
Injury risk of small female pilots in ejection seat scenarios
Incidence of Spinal Cord anomalies in congenital Scoliosis
Does implant density influence the outcome in scoliosis associated with CP?
Angulation of End Instrumented Vertebrae vs. Wedging of the disc below the fusion
Asymmetrical proximal level instrumentation in Adolescent Idiopathic Scoliosis
Role of body cast application for infantile scoliosis associated with Prader Willi Syndrome