Memory & Adult Neuropsychology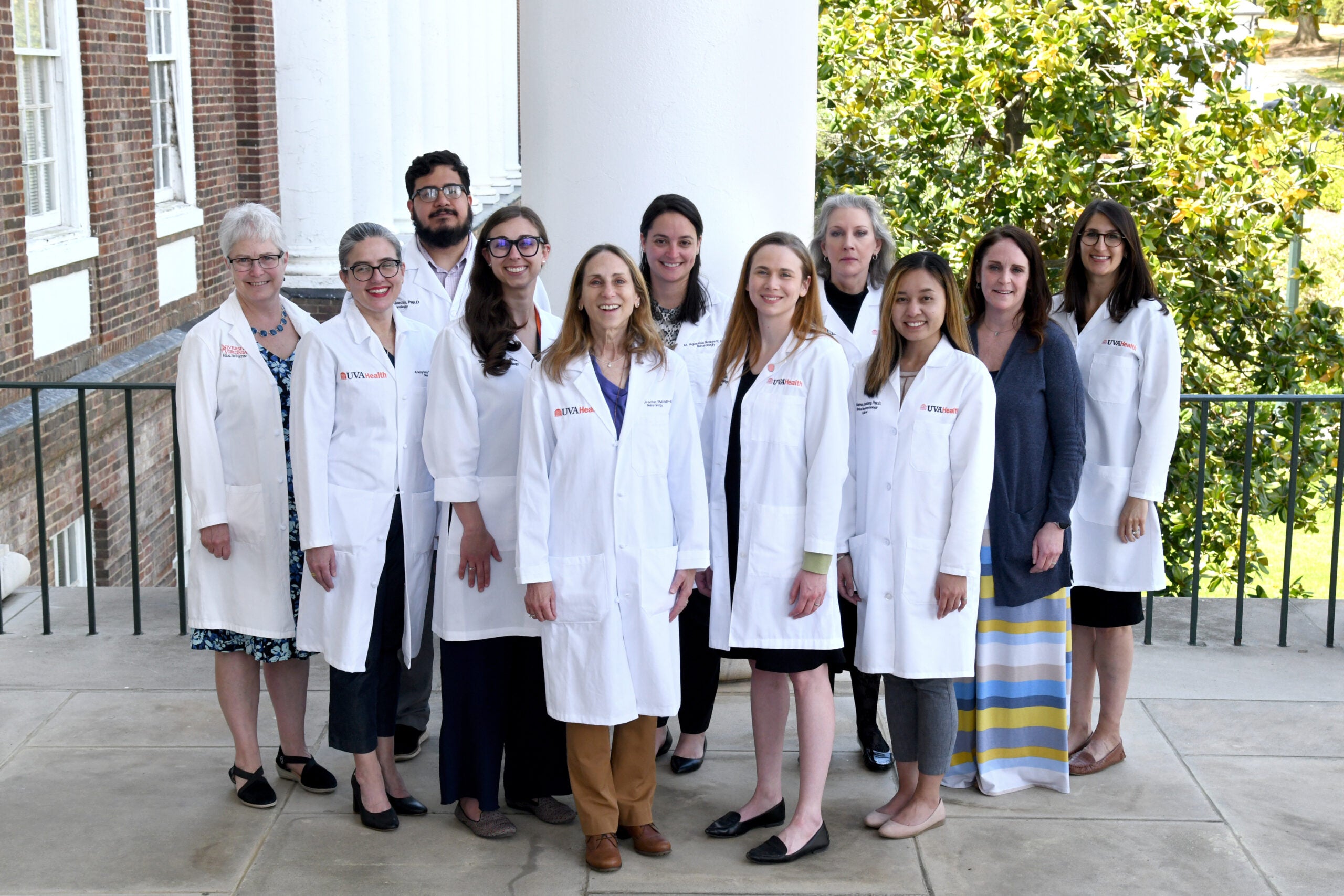 Welcome to the University of Virginia's Memory/Adult Neuropsychology Division, in the Department of Neurology. The division consists of neurologists, neuropsychologists, nurses, and social workers with expertise in aging, memory, and behavioral medicine.  We provide consultation and management for a range of neurological and neurodegenerative disorders. We also maintain an active research program, through which we conduct clinical trials and federal and state funded studies. Our comprehensive multi-disciplinary treatment approach includes pharmacotherapy and non-pharmacologic (behavioral) therapies.
Memory and Aging Care Clinic (MACC)
Memory and Aging Care Clinic (MACC)
The University of Virginia's Memory and Aging Care Clinic (MACC) has been recognized as
the model for dementia care across the state.
We take a patient and family-centered approach to providing high quality, compassionate, and comprehensive care for individuals with cognitive and memory problems.
We work closely with patients with Alzheimer's disease, frontotemporal dementia, Lewy body disease, vascular and mixed dementias, and many other diseases. Our multidisciplinary clinical team includes neurologists, neuropsychologists, nurses, speech therapists, and social workers. We also collaborate with colleagues in neuroradiology and neurogenetics to provide specialized services on an individual basis.
Spanish Neuropsychological Services
Dr. Rossetti is a UVA Health certified bilingual neuropsychologist who offers neuropsychological services in Spanish on Fridays at 8:30 AM. During the appointment with Dr. Rossetti, the clinical interview and testing are conducted in Spanish; interpreters are not used. She utilizes tests and normative data that were specifically developed for use with Spanish-speaking patients from Latin American and/or Spain.  Dr. Rossetti is a native Spanish-speaker from Argentina. From early on in her training, she was determined to make cross-cultural neuropsychology an important and central part of her career, and she enjoys supporting and caring for patients of all backgrounds as she reflects upon her own journey as an immigrant and multicultural individual.
A referral from a medical provider is needed, and we will contact the patient or identified care partner to schedule he appointment.  For questions, please contact (434) 982-4363. A message can be left in Spanish on that line.
Servicios Neuropsicológicos en Español
La Dra. Rossetti es una neuropsicóloga bilingüe certificada por UVA Health que ofrece servicios neuropsicológicos en español los viernes a las 8:30 a.m. Durante la cita con la Dra. Rossetti, la entrevista clínica y las pruebas se realizan en español; No se utilizan intérpretes. Ella utiliza pruebas y datos normativos que se desarrollaron específicamente para su uso con pacientes de habla hispana de América Latina y/o España. La Dra. Rossetti es una hablante nativa de español de Argentina. Desde el principio de su formación, estuvo decidida a hacer de la neuropsicología intercultural una parte importante y central de su carrera, y disfruta apoyando y cuidando a pacientes de todos los orígenes mientras reflexiona sobre su propio viaje como inmigrante e individuo multicultural.
Se necesita una remisión de un proveedor médico para que nos comuniquemos con el paciente o el socio de atención identificado y programar la cita. Si tiene preguntas, comuníquese al (434) 982-4363. Se puede dejar un mensaje en español en esa línea.
Meet Our Team
Neuropsychology Faculty
Neurology Faculty
Neuropsychology Fellows
Brianna Daranciang, PsyD
Virginia Gallagher, PhD
Emily Schertel, PsyD
Sara Trach, PsyD
Graduate Practicum Student
Neuro-Psychometrists
Lisa Sherwood (supervisor and lead psychometrist)
Olivia Lin
Sarah Rodock
Annie Eick
Nursing
Clinical Coordinators
Lisa Opie, CCRC
Colleen Webber, CCRC
Mika Labergerie, CCRC
Care Coordinators
Elizabeth Boyd
Samantha Fields
Jessica Samet
Yenifer Valera
Appointments
To make an appointment, please call (434) 924-2706.