Neuro-Oncology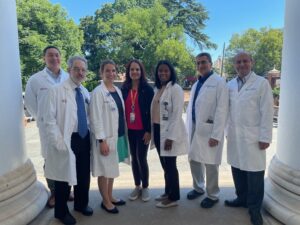 The University of Virginia has a multidisciplinary, highly integrated program focusing on brain and spinal cord tumors that involves medical and surgical neuro-oncologists, neuropsychologists, radiation specialists, neuropathologists, and neuroradiologists.
Clinical Services
We are highly specialized in the management of brain and spinal tumors as well as neurologic complications of cancer, restricting their clinical practice to these areas. Among the tumors we treat are glioblastoma, oligodendroglioma, astrocytoma, ependymoma, meningioma, lymphoma, brain metastasis, and medulloblastoma. In addition to providing state of the art treatment, when appropriate we offer clinical trials for malignant or refractory brain tumors. We are committed to seeing new patients within one week.
Please Click Here to View Open Clinical Trials in Neuro-Oncology
Our Team
Core Providers:
Associated Providers:
Education
The Neuro-Oncology Center at the University of Virginia offers 1 to 2 year fellowships. Fellows will learn to administer chemotherapy and to write and conduct clinical trials; they may elect to pursue a Master's degree in clinical investigation and patient-oriented research or in public health. The program is flexible to meet the specific interests of the fellow and can include rotations in Surgical Neuro-Oncology, Neuropathology, Pain/Palliative Care, Radiation Oncology, and Pediatric Neuro-Oncology.
Click here for more information regarding the Neuro-Oncology Fellowship Program
Additional Information
For an appointment, please call (434) 924-9333.
Emily Couric Clinical Cancer Center – Neuro-Oncology Clinic