Movement Disorders Fellowship Program
Movement Disorders Fellowship Program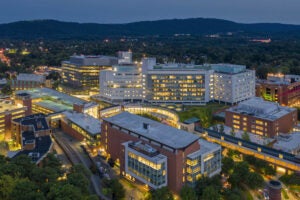 Letter from Program Director
Welcome to the UVA Movement Disorders Fellowship. At UVA we have a tradition of clinical and educational excellence. The division of Parkinson's Disease and Movement Disorders has trained residents and fellows over many years under the mentorship of G. Frederick Wooten, MD and Madaline Harrison, MD. The division's Movement Disorders Fellowship program formally began in late 2015 under the guidance of Binit Shah, MD, former Program Director, and current division chief. The first fellow started in July 2017, and since that time we have successfully matched a fellow every year into our 2-year program. Our current graduates have taken positions in both private practice and academic institutions, as well as significant leadership positions. While young and growing, our program has the resources, expertise, and faculty mentorship to produce leaders in the next generation of movement disorders specialists.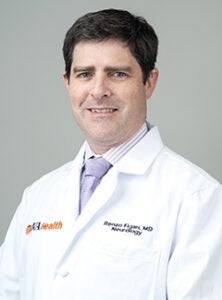 Training and Assignment Overview
The Fellowship is a 2-year program targeted to maximize clinical acumen of our fellows, with opportunities to also participate in clinical research, in order to support their growth as future movement disorders neurologists.
First Year:
The first year is comprised of 4-week rotations with 40 half-day blocks divided into 15 General Movement Disorders clinics, 8 DBS Programming clinics, 6 Chemodenervation clinics, 2 Huntington Disease multidisciplinary clinics, 1 Pediatric movement Disorders clinic, 1 Memory clinic, and 7 blocks for research time. The goals and objectives of the first year are divided into clinical and research components. Clinically, we aim to provide a strong clinical foundation with exposure to multiple patients that will give a diverse view of movement disorders pathology. Introduction to the division's research environment will include participating in on-going clinical trials and generating new hypotheses using the Movement Disorders clinic database.
First Year Sample Schedule
Movement Disorder Academic Schedule.xlsx
1ST YEAR MOVEMENT DISORDER FELLOW
4 WEEK CYCLE
MON
TUES
WED
THURS
FRI
WEEK 1
AM
Gen Mov Clinic
Staff Dalrymple
DBS
Staff Dalrymple/Figari
Gen Mov Clinic
Staff Figari
Botox
Staff Shah
Gen Mov Clinic
Staff Figari
PM
Memory Clinic
Staff D'Abreu
DBS
Staff Dalrymple/Figari
Gen Mov Clinic
Staff Shah
Admin/Research
Admin/Research
WEEK 2
AM
Gen Mov Clinic
Staff Dalrymple
DBS
Staff Dalrymple/Figari
Botox
Staff Figari
Peds Mov
Staff Abu Libdeh/Garris
Gen Mov Clinic
Staff Figari
PM
Botox
Staff Dalrymple
DBS
Staff Dalrymple/Figari
Gen Mov Clinic
Staff Shah
Admin/Research
Admin/Research
WEEK 3
AM
Gen Mov Clinic
Staff Dalrymple
DBS
Staff Dalrymple/Figari
Botox
Staff Figari
HD Clinic
Staff Dalrymple
Gen Mov Clinic
Staff Figari
PM
Botox
Staff Dalrymple
DBS
Staff Dalrymple/Figari
Gen Mov Clinic
Staff Shah
HD Clinic
Staff Dalrymple
Admin/Research
WEEK 4
AM
Gen Mov Clinic
Staff Dalrymple
DBS
Staff Dalrymple/Figari
Gen Mov Clinic
Staff Figari
Botox
Staff Shah
Gen Mov Clinic
Staff Figari
PM
Gen Mov Clinic
Staff Figari/Shah
DBS
Staff Dalrymple/Figari
Gen Mov Clinic
Staff Shah
Admin/Research
Admin/Research
Second Year:
The second year is tailored to each fellow's interest and career goals. The fellow will be able to customize his/her schedule to complete research projects and achieve goals for a smooth transition into a research or clinical practice.
Didactics:
Weekly didactic sessions include a rotation of:
Video rounds where fellows present, describe phenomenology, differential diagnosis, and diagnostic/treatment plans of interesting patient cases.
Journal club.
Research conference.
Lecture series presented by the fellows.
Highlights of training at the University of Virginia:
Combined clinical and research training.
Multidisciplinary Huntington's Disease and Atypical Parkinsonism clinics.
Pediatric Movement Disorder clinic.
Training in Neurocognitive disorders.
Early exposure to DBS clinic and multidisciplinary selection conference.
Early hands-on experience with botulinum toxin injections techniques, both with and without EMG guidance.
Flexibility of second year with protected time for research, education, and/or conferences.
Opportunities for resident and medical student teaching, both formally and informally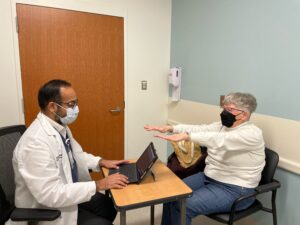 How to Apply for the Fellowship Program
The movement disorders fellowship at UVA is a non-ACGME accredited program that utilizes the San Francisco match for its application. All applications should come through the SF Match. We recommend that applicants interested in training at UVA include in their personal statement a summary of career goals, and research interest. Applications should be submitted during the PGY3 year. Applicants must have successfully completed a neurology residency program before entering this fellowship.
Information for International Graduates
We accept international medical graduates and support J1 visa applicants. Graduates of medical schools outside the USA or Canada are required to have an ECFMG certificate before the start of the fellowship.
For specific dates please review the timeline posted at the SF Match.
Registration and application start through the SF Match around March of the year prior to starting fellowship (March of the applicant's PGY3 year).
Invitations for interview are sent in June until all spaces are filled. We have limited interview slots so a late application can affect your opportunity to interview at UVA.
We conduct interviews on Fridays between the months of July and August.
Rank list is summited in early September.
Match results are announced late September.
Diversity, Equity, and Inclusion
As employees of UVA, fellows participate of training in preventing and addressing discrimination, harassment, and retaliation, and delivering compassionate care to patients who are LGBTQ+. The UVA Division of Diversity, Equity, and Inclusion assists and monitors all units of the University in their efforts to recruit and retain faculty, staff, and students from historically underrepresented groups and to provide affirmative and supportive environments for work and life at the University of Virginia
Core Faculty Members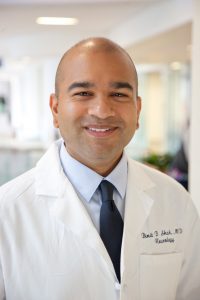 Binit Shah, M.D.
Division Chief of Neurology
Associate Fellowship Professor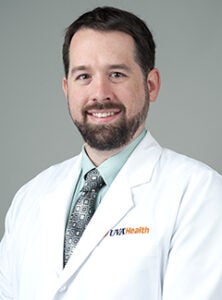 William A. Dalrymple, M.D.
Neurology Program Director
HD Clinic Director

Current Fellow
Matthew Burton, MD
Dr. Burton is excited to be at UVA providing care to such a great community. He grew up in West Virginia and completed his undergraduate and medical school at Marshall University (Go Herd)!
He has a lovely family with two kids that keep him outside all the time. He enjoys time away from the office doing things like hiking, kayaking, or trying out new food! Dr. Burton looks forward to meeting all the great patients in our community and helping in any way possible!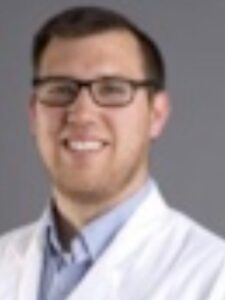 Sajid H. Shaikh, MD
Dr. Shaikh is thrilled to be at UVA to learn more about the movement disorders from the very best in the field. He has come all the way from Pakistan. He completed his neurology residency as well as clinical neurophysiology fellowship at the Aga Khan University, Pakistan.
Dr. Shaikh is delighted to be in Charlottesville with his wife and two daughters. They are exploring the beauty of Virginia, great food, and landscapes, as well as experiencing the famous Southern hospitality. Dr. Shaikh is looking forward to help and care for our patients and their families in the best possible way.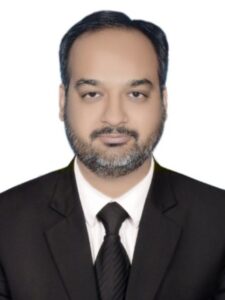 Former Fellows
Patrick W. Kerns. M.D. (Graduated 2022) Christiana Care, Newark, DE
W. Alex Dalrymple, M.D. (Graduated 2021) UVA Health System, Charlottesville, VA
Hannah W. Irving, M.D. (Graduated 2020) Inova, Fairfax, VA
Cody Scott Freeman, M.D. (Graduated 2019) Bon Secours, Greenville, SC
Daniel O. Claassen, M.D., MS (Graduated 2011) Division Chief, Behavioral and Cognitive Neurology, Vanderbilt University Medical Center, TN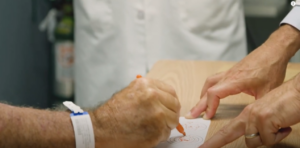 Support the Education of future Movement Disorder Specialist
The success of the Parkinson's Disease and Movement Disorders fellowship depends on the support by patients and community. Generous donations can help increase the numbers of fellows we train per year, support fellows time to focus on research activities, and allow fellows for extra-mural education at international conferences and courses.
To get involved or start a conversation, please contact Jordan Klein, Associate Director of Healthcare Philanthropy, UVA Health Foundation.
This is Charlottesville, Virginia
Charlottesville is a small, thriving city with a population of 50,000; the local area population is 145,000. Charlottesville is two hours from Washington, DC. There are few places in the United States that combine a picturesque and cultivated countryside that is so rich in historical associations with the proximity of a national park and a wide array of cultural opportunities. Charlottesville is home to Thomas Jefferson's home, Monticello, and the college he designed, the University of Virginia.