Teleneurology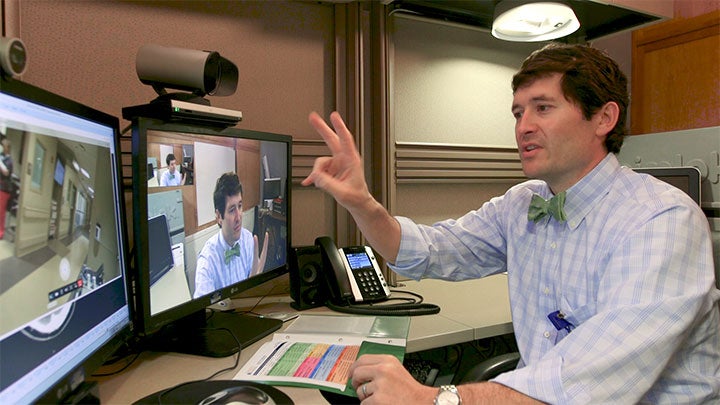 By leveraging technology to extend the reach of our specialists, the Division of Teleneurology takes pride in changing our patient's lives by bringing excellent neurology care to under-served areas of Virginia. By working with our colleagues at the UVA Karen S. Rheuban Center for Telehealth, we are able to provide a variety of services designed to bring the care to the patient. The Division of Teleneurology is committed to providing care that exceeds expectations and offers equivalent quality when compared to traditional encounters.
Services Provided:
Stroke
Telestroke follow-up clinic
iTREAT Mobile Telestroke
Stroke ECHO
Epilepsy
Adult and pediatric epilepsy clinic
Remote EEG Monitoring
Multiple Sclerosis
Multiple Sclerosis Telemedicine Clinic
Neurocritical Care
eConsults
Tuberous Sclerosis Telemedicine Clinic
Pediatric Neurodevelopment telemedicine clinic
Multiple providers in the Department of Neurology participate in providing Teleneurology services to both internal and external stakeholders in a number of subspecialty areas, including stroke, epilepsy, movement disorders, neuromuscular disorders, and cognitive disorders.
Providers
Coordinators
Brett Schneider, Telestroke Clinical Coordinator
For more information on Teleneurology at UVA, please contact the Telestroke Coordinator at (434) 243-7090 or by email at telestroke@virginia.edu.