Epilepsy Surgery
UVA - A Level 4 Epilepsy Surgery Center
The University of Virginia Medical Center has a Level 4 epilepsy surgery center, which is the highest designation assigned by the National Association of Epilepsy Centers.  Jeffrey Elias, MD is our adult epilepsy neurosurgeon and Hasan Syed, MD is our pediatric epilepsy neurosurgeon.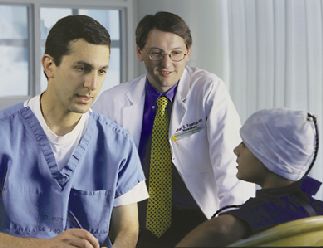 Epilepsy surgery at UVa is integrated with the F.E. DreifussComprehensive Epilepsy Program to address all surgical and nonsurgical diagnostic and treatment modalities. The program offers the most advanced resources available to help patients achieve remission of their seizures. This is a comprehensive program not only in terms of the team approach to care, but also in the team's ability to apply every available diagnostic and treatment option.
Surgery as an Early Option
Epilepsy surgery has traditionally been viewed as a treatment of last resort, but recent advances in the treatment of epilepsy offer the possibility of a safe, effective cure and improved quality of life. Patients should be considered for epilepsy surgery early in their course of treatment to minimize the consequences of poorly controlled epilepsy.
Testing
To determine actual suitability for surgery, the patient undergoes comprehensive multimodality evaluations in two phases:
Phase 1 – Extracranial video/EEG monitoring in the hard-wired Epilepsy Monitoring Unit (EMU); high-resolution MRI; ictal SPECT; neuropsychological testing; Wada intracarotid amobarbital testing; and other tests.
Phase 2 – Intracranial electrode placement, if needed, to localize seizure focus to a small area; electrical stimulation cortical mapping; intracranial evoked potential mapping; 3-D MRI reconstruction.
MRI of the brain with specially designed high-resolution sequences is essential to identify structural abnormalities, which can be the source of seizures.
Single photon emission computed tomography (SPECT) aids in localization by identifying areas of altered perfusion in the suspected epileptic focus. Inpatient intensive telemetry EEG monitoring with simultaneous video recording is performed to capture seizures. The goal is to confirm that the spells of interest are seizures, that they arise from a single location and to further identify the exact electrographic origin.
Neuropsychologic testing is performed on all surgical candidates to localize areas of dysfunction, assess psychological health and establish baseline neuropsychological functioning to help avoid the risk of functional loss after surgery. When considering temporal lobectomy, the intracranial amytal test (or Wada test) is performed to identify hemispheric language dominance and whether the contralateral temporal lobe is adequate to support memory function after surgery.
Types of surgery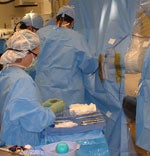 All modalities of resective surgery are available, including temporal lobectomy, focal cortical resections, lesion removal, hemispherectomies, corpus callosotomy. Many different types of surgery are now performed for refractory epilepsy, including anterior temporal lobectomy, cortectomy, lobectomy, lesionectomy, hemispherectomy, corpus callosotomy and multiple sub-pial transections. Anterior temporal lobectomy is the most commonly performed resective epilepsy surgery because "mesial temporal sclerosis" is the most common single identifiable pathology associated with epilepsy. Vagus nerve stimulation is also offered. Experimental treatments are ongoing, including studies of deep brain (thalamic) stimulation for epilepsy, gamma knife treatment of temporal lobe epilepsy, and participation in ERSET (Early Randomized Surgery Epilepsy Trial) sponsored by NIH.
Contact