Uveal Melanoma
The most common surgical treatment for uveal melanomas is enucleation, but several centers have relatively large series in the treatment of these tumors with Gamma surgery.  Other therapeutic options include radium plaque therapy, and proton beam therapy. The first uveal melanoma was treated with Gamma surgery in Buenos Aires and has become a more frequently used procedure for this unusual pathology. The use of Gamma surgery and its stereotactic technique requires that the eyeball be fixated relative to the stereotactic frame. This is accomplished with retrobulbar blocks and external fixative sutures that are attached to the frame. At the University of Vienna the use of specially designed suction device that is attached to the frame is utilized.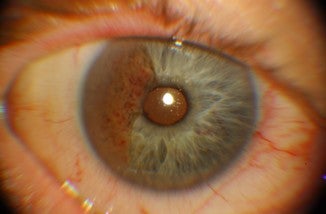 The Sheffield group reported a series of 29 patients treated and followed for an average of 14 months. The average periphery dose was 73 Gy corresponding to the 50 percent isodose line. The dose was delivered in two sessions not more than eight days apart. All but two patients had good local control. The two failures required later enucleation. Three patients died of metastatic disease.   More recent work suggests that a lower margin dose of 41.5 Gy may be just as effective in terms of tumor control but be associated with a lower risk of neovascular glaucoma.  In a series of 75 patients with uveal melanoma followed for a minimum of 10 months, Simonova et al. (2002) reported 84% local tumor control and secondary glaucoma in 25%.
Of the three patients treated at the University of Virginia, there has either been no change or slight decrease in the size of the tumor with at least two years of follow up. When required, we placed a spacer to elevate the eyelid to prevent radiation injury to the lid. One of the three patients we treated with two sessions in order to protect the eyeball from acute increased intraocular pressure that can be a problem following radiation exposure. The experience treating uveal melanomas with Gamma surgery has been shown to be effective for short term local control. Longer follow up is required to determine if this procedure is superior to other therapies.