Craniopharyngiomas
Gamma Knife Treatment for Craniopharyngiomas
Click here for information about Causes, Symptoms, Diagnosis and more treatment options.
Craniopharyngiomas are very difficult tumors to treat. Their benign histology is misleading. The near impossibility to resect completely and usual location in and about the hypothalamus make them difficult to cure. Various medical therapies have been used in the treatment of craniopharyngiomas. Microsurgery, intracystic instillation of radioisotopes, radiation therapy and now radiosurgery have all been used. Long term evaluation of patients with craniopharyngiomas is available after various treatment protocols. The general consensus is that as complete a surgical resection as possible, without creating significant morbidity, should be performed; this is followed by radiation therapy and gives reasonable long term survival. The ill effects on children after receiving fractionated brain irradiation are well known. Good results with resection alone have been achieved but only in the hands of a few neurosurgeons. Even so, long term results of children with subtotal resection followed by radiation therapy has been shown to be superior to complete resection alone and the deficits incurred with aggressive surgery can be considerable.
Gamma surgery as an adjunct to microsurgical resection has been used in lieu of radiation therapy, or in addition to it, at several centers. The instillation of radioisotopes (e.g. P32) into large, non-loculated cystic components of the tumor and Gamma surgery for the solid portion is the treatment policy for craniopharyngiomas at our center.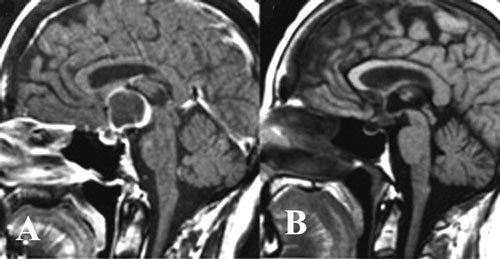 We have treated 31 craniopharyngiomas in Virginia with Gamma surgery, some of whom were reported on earlier. Maximum dose was 25 to 50 Gy (average 34.2) with a periphery dose of 9 to 16.7 Gy (average 13 Gy). Since the introduction of more advanced software for planning the treatment all lesions in this region incorporated shielding to protect the optic apparatus and uninvolved hypothalamus. This has become more refined with the introduction of more sophisticated planning systems (Gamma Plan) but the maximum dose in all cases was kept below 8 Gy.
Of the 31 patients, two died at 6 and 15 months after Gamma surgery. Three of the tumors increased in size and one is unchanged. Five (16 percent) radiographically disappeared and 19 (61 percent) decreased in size. One patient was lost to follow up.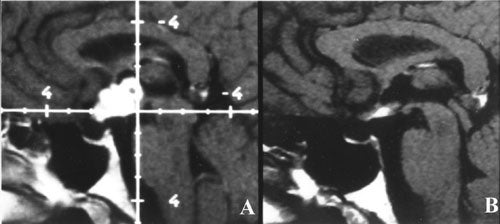 Several other series have been reported in the use of Gamma surgery in the treatment of craniopharyngiomas with results similar to ours. As larger series with longer follow up become available it is likely that Gamma surgery will either take the place of less discriminate radiation therapy, or be a useful adjunct to it.