Functional Neurosurgery
About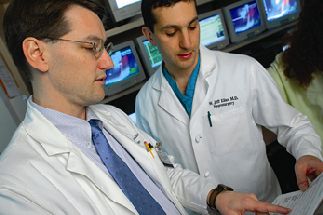 Functional neurosurgery involves the restoration of neurological condition and function. At the University of Virginia Health System we treat chronic neurological disorders with a variety of techniques, including highly focused neuromodulation and deep brain stimulation. This represents one of the most rapidly growing specializations in the field of neurosurgery and provides great hope for patients with previously untreatable neurological conditions.
Each patient is evaluated thoroughly at UVa. Frequently patients are assessed by a large multidisciplinary team that specializes in a particular disorder and that utilizes contemporary diagnostic tools. Under the directorship of Jeffrey Elias, M.D., a comprehensive assessment is obtained using a full spectrum of diagnostic means, and therapeutic procedures are implemented with state-of-the-art technology.
Comprehensive Assessment and Diagnosis
Clinical – Our multidisciplinary team consists of specialists from neurosurgery, neurology, psychology and physiology. We are thus able to accurately diagnose neurological conditions and evaluate these diseases as they affect the patient's condition, cognition and quality of life.
Imaging – A full range of the most modern imaging methods is available to view the neural axis. Imaging includes CT and MRI, as well as functional imaging with FMRI, PET and SPECT.
Electrophysiology – In addition to testing with EEG and EMG of the nervous system, precise electrophysiological assessments are necessary in the application of focused therapies. These assessments include single cellular microelectrode recordings of the basal ganglia, and mapping of neurons in eloquent cortical regions of the brain.
Neurological Disorders
Many of the chronic neurological disorders which were once thought untreatable are now successfully being treated in our department. Regimens are initiated as always, but currently effective surgical treatments may be also implemented – and even applied early toward the disease – before it progresses to the point where side effects develop from repeated use of medications.
Functional neurosurgeons at UVA are currently treating:
Movement disorders, including Parkinson's, tremor, dystonia, Tourette's and hemifacial spasm
Epilepsy
Spasticity of cerebral origin (MS and spinal cord injury)
Neuropsychiatric conditions, including obsessive-compulsive disorder and depression
Chronic pain from neuropathic injuries or diseases, as well as malignant causes
Trigeminal neuralgia, post herpetic neuralgia and nerve injuries.
Modern Neurosurgical Treatments
We offer the full spectrum of therapies for neurological diseases. Traditionally, neurosurgeons use ablative surgeries to treat damaged regions of the neural axis. These include DREZ lesioning for brachial plexus injury, anterior lateral cordotomy for cancer pain, rhizotomy for spasticity, and pallidotomy for movement disorders.
Now, neuromodulation procedures are available and offer the advantages of safety and specificity. Neuromodulation is precisely targeted toward specific regions of the brain, spinal cord and peripheral nervous system and can be adjusted depending on the required therapy. Stereotactic techniques, modern imaging and precise electrophysiology are necessary for the application of deep brain stimulation for movement disorders and newer applications in epilepsy and neuropsychiatry.
For the treatment of spasticity and cancer pain, complex chemical infusions can be efficiently delivered without side effects. Lastly, stereotactic radiosurgery and the gamma knife are available for highly focused and precise doses of radiation to the brain.
Contact