Stroke and Cerebrovascular
Cerebrovascular Surgery and the UVA Stroke Center
Neurosurgeons Min Park and Dennis Vollmer along with interventional radiologists, neurologists and others at UVA's Stroke Center, provide the highest level of comprehensive care in Virginia for patients with stroke and other cerebrovascular disorders, including ruptured and unruptured intracranial aneurysms, intracerebral hemorrhages, vascular malformations, carotid artery disease, and diseases of the brain requiring bypass surgery.
Ischemic Stroke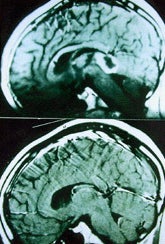 UVA is the only center in its region capable of certain treatments that can potentially reverse stroke if applied within hours of onset, so it is important to rush to UVA immediately after symptoms appear. UVA's acute stroke intervention team is on call 24 hours a day.
85% of all strokes are ischemic, which is defined as clotting.  Having led trials that resulted in its FDA approval, our team is extremely experienced in administering clot-busting TPA (Tissue Plasminogen Activator), which can often reverse the stroke process when started intravenously within 3 hours of onset.
Intraarterial thrombolysis is available for selected patients with large intracranial arterial occlusions out to six hours from onset. In addition, basilar artery thromboses can be treated with intra-arterial thrombolysis out to 24 hours.
Angioplasty can be done before or after stroke for initial or recurrent stroke prevention, and carotid and cerebral stents are also available.
Learn more about types of strokes, warning signs and prevention at the UVA Stroke Center page.
Aneurysms and Hemorrhagic Strokes
A brain aneurysm is a bulging, weakened area in the wall of an artery in the brain, resulting in an abnormal widening or ballooning. Because there is a weakened spot in the artery wall, there is a risk for rupture and hemorrhagic bleeding. When an artery ruptures and bleeds into the brain, brain cells and tissues do not receive oxygen and nutrients, causing brain damage or death if not treated in time.
There are two primary surgical treatments for a cerebral aneurysm:
Clipping, where the neurosurgeon removes part of the skull, exposing the aneurysm, and places a metal clip across the neck of the aneurysm to prevent blood flow into the aneurysm sac.
Coiling, a minimally invasive endovascular technique, where a catheter is advanced from a blood vessel in the groin up into the blood vessels in the brain, and tiny platinum coils are then advanced through the catheter into the aneurysm to fill it and prevent rupture.
To learn more about surgical and endovascular treatment of aneurysms and hemorrhagic stroke, click here.
Intracerebral Hemorrhage
Intracerebral hemorrhage (ICH) is relatively common, often related to hypertension. Neurosurgeons at UVA are involved in the care of all patients admitted with ICH. Acute treatment in the intensive care unit is aimed at stabilization, and subsequent subacute and chronic treatment is undertaken for rehabilitation and treatment of underlying disorders. Patients are managed by aggressive medical treatment and with surgery in selected instances in which patients become refractory to medical management.
Vascular Malformations
Arteriovenous Malformations (AVMs) are abnormal collections of blood vessels which obstruct certain tissue from receiving nutrients in the normal course of blood circulation, and can be prone to bleeding and cause severe and often fatal strokes.
Comprehensive management of patients harboring AVMs involves three main therapeutic modalities: endovascular therapy, microsurgery and stereotactic radiosurgery.  UVA excels at all three, including extensive experience with radiosurgical treatment of AVMs with its Gamma Knife.
To learn more about AVMs and Cavernous Malformations, click here.
Facilities
Facilities for patient care include the Neuro Intensive Care Unit; the Stroke Center ward with fully equipped diagnostic and interventional neuroradiology suites; the Lars Leksell Center for Gamma Knife Surgery; and neurosurgical operating rooms equipped with the latest technology.  State-of-the-art equipment including new microscopes with high-definition video and computer software, frameless stereotactic navigation systems, advanced endoscopic equipment, intra-operative ultrasound and capabilities for intra-operative angiography are all at the disposal of the surgical team. All facilities are staffed by highly skilled personnel committed to excellence in patient care.
Advanced Research
We are dedicated to improving future care and outcomes through clinical and laboratory research, as well as through the education of tomorrow's health care providers.  We are conducting ongoing clinical and laboratory research to examine subarachnoid hemorrhage, cerebral vasospasm, ischemic stroke, intracerebral hemorrhage and endovascular and minimally invasive therapies.
When appropriate, patients are evaluated and offered the most current and promising treatments available through the clinical trials program.
Vascular Conferences
There are daily conferences within the Stroke Center to discuss patients' cases and management issues. And all of the neurosurgeons, radiologists, neurologists and additional health professionals meet once a month in a formal didactic conference to discuss contemporary vascular topics.
Recovery and Special Services
Patients undergo recovery in the Neuro Intensive Care Unit and in the Stroke Unit – units with staff trained specifically for the care of patients in need of intensive observation following a stroke. The nurses understand the unique medical requirements of patients recovering from various types of stroke. Physical, occupational and speech therapists work entirely with patients who are overcoming strokes and other neurological problems. Additionally, social workers assist patients with a range of needs, from returning to work after a stroke to dealing with social and medical issues following a major cerebral injury.
Patients who have suffered a stroke and their families may be under a great deal of stress or in need of additional assistance. See UVA's Patient Information page to learn about all the patient and guest services available to make your stay as comfortable as possible. Children who suffer strokes receive treatment and rehabilitation in conjunction with the special services of UVa's Kluge Children's Rehabilitation Center.
Contact