Chordomas
Gamma Knife Treatment for Chordomas
Click here for information about Causes, Symptoms, Diagnosis and more treatment options for bone cancers, including chordomas.
Chordomas at the level of the clivus or elsewhere in the skull base are difficult to remove surgically and have a high recurrence rate. The use of post operative radiation with heavy particles was shown to be associated with a significant long term survival but with only modest reduction in tumor size.
We treated ten patients with a chordoma for whom follow up greater than two years is available in six. Two tumors shrank, two increased in size and the remaining two are unchanged.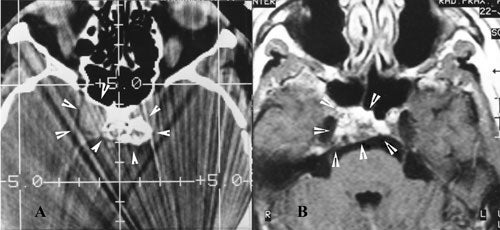 Linear accelerator based radiosurgery results for chordomas have been published. Thirteen patients followed for an average of 32 months (range 4 to 80 months) were evaluated. All but one patient, who died at 4 months of tumor progression, was alive. Local control of the tumor was 69 percent (tumor unchanged or smaller), and there was one significant complication (pituitary dysfunction requiring replacement therapy).
Chondromas and Chondrosarcomas
These are rare tumors in the skull base. We have treated four chondromas and seven chondrosarcomas with Gamma surgery. Response in some cases was very good (greater than 50 percent reduction in size) and none have progressed with a follow-up of 1 to 5 years.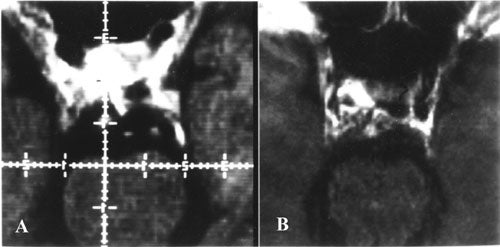 Muthukumar et. al treated 15 patients (nine with chordomas and six with chondrosarcomas) with Gamma surgery and reported their results with an average follow-up of four years. Four of their patients had died; only two deaths were related to progression of disease and both of these had progression outside of the treated area. Only one of the surviving 11 had tumor progression, and five had shrunk.  Gamma surgery seems to be a reasonable treatment alternative for these tumors, but longer follow-up and larger series are required before definitive statements can be made.