Gamma Knife Perfexion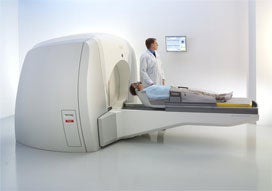 The University of Virginia Health System is among the first hospitals in the world to install the Gamma Knife Perfexion, which improves accuracy (Neurosurg Focus 23(6):E6 2007), reduces background radiation outside the treatment area (Med Physics 33:1770-9 2006), reduces treatment times,  and can treat an expanded number of conditions.
The new Gamma Knife is the first ground-up redesign in about 30 years for the machine, which is the gold standard for intracranial radiosurgery. The minimally invasive instrument uses 192 beams of highly focused Cobalt 60 radiation to target brain tumors and vascular malformations in the brain and cervical spine.
Treatment time for patients with the new Perfexion is reduced by about 20 to 30 minutes.
The Gamma Knife Perfexion also has the potential to treat a broader array of conditions, because the machine can now deliver radiation as far down as the seventh cervical vertebra, compared to the second cervical vertebra previously.
New conditions that can be treated include: spinal tumors, tumors at the base of the skull, head and neck cancers, and spinal arteriovenous malformations. The new Gamma Knife Perfexion system may also be able to provide leading-edge treatment for multiple metastatic tumors in a single treatment session. UVa will also be one of three hospitals involved in clinical trials to develop additional indications for the Gamma Knife Perfexion.
Patients will benefit from the Perfexion's improved dose delivery and from the new instrument's improved comfort features, including a new, more comfortable mattress system.
In summary, Perfexion's advantages include the following:
Unsurpassed dose planning with Composite shots and Dynamic beam shaping
The ability to simultaneously use different beam sizes (collimators).
Shorter patient treatment times
Improved comfort for the patient
Increased treatment range to the lower cervical spine.