Pediatric Hospital Medicine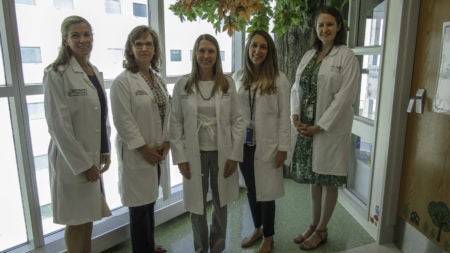 The Pediatric Hospital Medicine Service at the UVA Children's Hospital is staffed by Pediatric Hospitalists.  A pediatric hospitalist is a board-certified pediatrician who works primarily in the hospital and understands the unique needs and complexities of caring for hospitalized children.  We specialize in caring for infants, children, and adolescents with both common and complex medical conditions while they are in the hospital.
Hospitalists serve as the supervising doctors ("attending physicians"), who work closely with medical, surgical, and emergency medicine specialists to ensure your child receives compassionate care. We also communicate with your primary care pediatrician when coordinating your child's discharge home from the hospital. Current, evidence-based medicine is used to develop, implement, refine and advance best practices in this inter-professional setting.
Practice Family Centered Care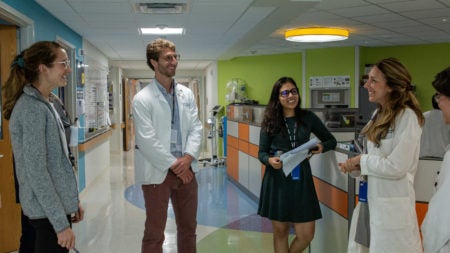 Family-centered care is an approach to health care that focuses on forming a positive working partnership between health care providers, patients, and families. We believe that families play an important role in ensuring the health and well-being of our patients, and acknowledge that emotional, social, and developmental support are important components of comprehensive care.
Our hospitalists believe that your child is best served by directly involving your family throughout the process. Our goal is to include you and your child as we:
Conduct rounds in your child's hospital room
Encourage you to ask questions and play an active role in your child's care
Have open, honest discussions regarding the plan of care
Help you make informed decisions about your child's care
What to Expect
Upon admission to the Pediatric Hospital Medicine Service, your child will be thoroughly evaluated by members of our team, who will perform a comprehensive history and physical examination. The hospitalist will provide an overview of the treatment plan and will coordinate care with any necessary specialists or care providers. UVA Children's Hospital is a teaching hospital; your medical team will be comprised of a supervising physician ("attending"), resident physicians, and medical students.
Every morning, our team will conduct Family-Centered Rounds. We will perform a focused physical examination, discuss the updated plan of care including goals for discharge, and will address any concerns you may have.
When your child is ready for discharge, we will supply detailed instructions, including follow-up plans. We will keep your primary pediatrician and specialists informed regarding your child's hospitalization and will provide them with a comprehensive summary of your stay in order to better coordinate ongoing care.
Preparing to Stay at the Hospital
We understand having your child hospitalized can be challenging and scary. At UVA Children's Hospital, our first priority is to provide expert, compassionate care that meets your child's individual needs.
We also want to make sure you and your child feel as comfortable and prepared for your child's time in the hospital as possible. Please review the following information about your child's hospital stay to help you know what to expect. If you have any questions or concerns, please don't hesitate to call your child's doctor or clinic.
We will make every effort to make sure your child's room is comfortable and promotes healing. We are not able to provide every child with a private room, so please be prepared to share your child's room with another child. Those patients requiring isolation will be provided with a room to themselves.
We want and encourage parents/guardians to make sure every child has someone they love and trust stay overnight at the bedside with them. We can make arrangements for one parent or guardian to spend the night in your child's room. No one under the age of 18 can stay overnight with your child unless they are the parent or legal guardian. For the safety of our patients, we may ask for identification.
If you have additional family members traveling with you who need lodging, you can view lodging options here.
To ensure we create the safest environment for our patients, we follow safe sleep guidelines from the American Academy of Pediatrics. We do not allow bed-sharing for infants younger than one year. Infants are placed on their backs and alone in their cribs to sleep.
To promote health and healing for our patients, we observe quiet time from 1-3 p.m. and at night beginning at 10 p.m. During this time, we reduce lighting and limit the care that can be done at another time so that you and your child can rest.
We encourage parents, guardians, and family members to be present and take part in your child's care as much as possible. Siblings of all ages are encouraged to visit. We do not provide child care for visiting children, so please make arrangements for their supervision.
To protect your child's safety, privacy and health, we require visitors to check-in at the information desk in the hospital lobby, where they will receive an ID badge. Visitors must wear ID badges at shoulder height at all times while in the hospital.
To help your child feel more comfortable while they are in the hospital, you may want to bring some of his or her favorite belongings to the hospital. Please remember you are responsible for the security of your belongings. We suggest bringing:
Toys, games, books, videos, and photos
A favorite stuffed animal, blanket, or pillow
Glasses, hearing aids, crutches, braces, corrective shoes, or other orthopedic aids
Medications your child is currently taking and a list of those medications
Toothbrush and toothpaste
Schoolwork, if appropriate (We have school teachers here who can help your student stay up-to-date with their assignments.)
Laptop or tablet
Find a more complete list of items to bring and leave at home here.
Contact US
If you or your child is experiencing a non-emergency health problem, please contact your pediatrician.
For admission information, please have your pediatrician contact the call UVA Physician Direct at 552.3723 24 hours a day, 7 days a week. This line is open to doctors only.
For more information on the Pediatric Hospitalist Program, please call 434-243-0072