The UVA NeoRehab Program
The UVA NeoRehab program is dedicated to support and promote healthy brain development in preterm infants admitted to the neonatal intensive care unit (NICU).
Preterm infants are born when their brain is still very immature and actively developing. We know that parents play a very important role in supporting their babies during their NICU stay. We also know that parents can perform activities with their babies that have the potential to help the brain grow and develop.
These activities are included in our NeoRehab program and target all the baby's senses (smell, hearing, vision, and touch) as well as include activities aiming to help the baby's muscles and movement.
This webpage describes:
We are excited to discuss with you how you can help your baby's brain grow and are happy to answer any questions you may have.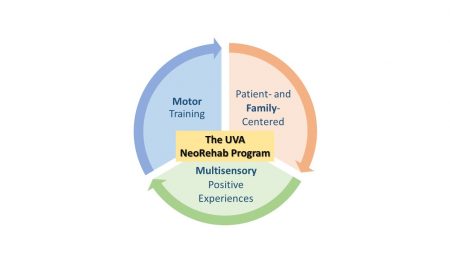 The Evidence Behind the NeoRehab Interventions (downloadable PDF listed in additional materials below)
Parent Flipbook (downloadable PDF listed in additional materials below)
Additional Materials
Publications