Our Facilities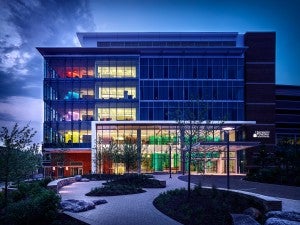 Operating as a "hospital without walls", the UVA Children's Hospital routinely cares for more than 3,000 admissions (excluding normal newborns) and 60,000 outpatient visits per year.
In June 2014, we opened the Battle Building, a comprehensive ambulatory facility that serves all the outpatient needs of children cared for at the University of Virginia. All non-invasive laboratories, sub-specialty clinics, exercise labs, and educational venues are included in this state-of-the-art facility. This includes top-of-the-line exercise and imaging equipment.
The CICU is run by a dual-trained pediatric cardiology intensivist. It has full capabilities in managing pre-and post-operative patients with congenital heart disease as well as the full array of medical pediatric cardiology conditions. There is an active ECMO program, staffed by trained perfusionists and respiratory therapists, that can be utilized when required.
Our primary pediatric lab was remodeled in 2012 with a Phillips angiography system that interfaces with the Phillips Xper monitoring and recording system. We also perform cases in a Siemans Hybrid Suite and have access to a Siemans Interventional MRI Suite. Fellows are responsible for a rigorous interpretation of pressure waveforms and the transfer of information into the PedCath documentation system for those cases they participate in. Angiography is stored and presented using the Agfa HealthCare IMPAX cardiovascular imaging system. Approximately 300 congenital cardiac catheterizations are performed yearly in our lab.
The echocardiography lab is a completely digital, ICAEL certified, facility utilizing current state-of-the-art equipment for performing a basic transthoracic echocardiogram, transesophageal echocardiogram on infants as small as 1.5 kg, and a top-of-the-line scanner for fetal echocardiography. The lab is 3-D capable as well and is part of an extensive state-wide telemedicine program. We routinely perform over 6,500 transthoracic echocardiograms and approximately 450 transesophageal echocardiograms and 650 fetal echocardiograms each year.

We provide the full range of EP services to children and adults with congenital heart disease. With our adult EP colleagues, we share four fully operational labs where complex ablations, including epicardial access, are performed. There is also access to a hybrid lab where procedures in combination with surgery can be performed. We use standard radiofrequency equipment as well as state-of-the-art cryotherapy equipment. We have the two leading 3-D mapping systems, CARTO and NavX, available in all of the labs as well as a Hansen robotic catheterization system. Approximately 100 congenital electrophysiologic procedures are performed yearly.
MRI / CT
Equipment includes two 1.5T and two 3T state-of-the-art, ACR-certified, Siemens cardiovascular MRI scanners with an array of specific coils, including the ability to image neonates, which are employed for MRI exams. Two dedicated sedation and induction rooms are located within the scanner suite facilitating cases in which anesthesia is required. A high pitch dual source Siemens Flash Somatom Scanner, which provides the ability to acquire high-resolution 3D CT data sets, without sedation, using only a fraction of the radiation dose of traditional CT scanners, is used for CT examinations of all patients. We perform approximately 150 congenital MRIs or CTs yearly for congenital heart disease.
The operating rooms are staffed by a pediatric-trained team including pediatric cardiac anesthesiologists, dedicated nursing staff, and a perfusion team. The program performs approximately 225 cases per year varying from neonatal procedures including complex palliation for single ventricle physiology as well as full services for adult patients with congenital heart disease and a very active cardiac transplantation program.