Pediatric Orthopedics
Pediatric Orthopedics & Musculoskeletal Care
Treating about 9,000 children each year, we're experienced at addressing complex orthopedic problems using the most advanced surgical and non-surgical techniques.
Find Out More
T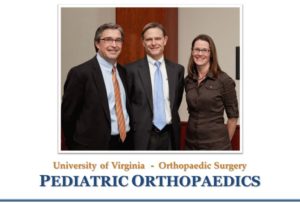 he Division of Pediatric Orthopedics has a core mission of providing expert specialty care to neonates, children and adolescents with problems involving the musculoskeletal system. These problems can include spinal deformities such as scoliosis, fractures and other injuries, limb deformities of a congenital nature or occurring from abnormal growth; as well as derangements produced by chronic conditions such as cerebral palsy, muscular dystrophies and other conditions affecting the neuro-muscular system. The expert care is offered in a specialized setting, the UVA Children's Hospital at the Battle Building, and supported by professionals trained to care for children. The research mission follows logically to improve our treatments of musculoskeletal conditions and to optimize treatment pathways. Disseminating our clinical knowledge and our research finding, as well as training professionals in the area of pediatric orthopedics is the core of our educational mission.
Mark Abel, MD, Pediatric Orthopedist
Faculty
You Can Help
Make a Donation
Your gracious support will help us reach our goal: To understand the roots of childhood diseases so that we can develop more effective, personalized, safer therapies and bring them to children!
Donate Now!
You have several options in how to make your contribution:
Check:
Your check should be made payable to UVA Children's Hospital.
For mailed gifts, the address is:
UVA Children's Hospital
University of Virginia Health Foundation
PO Box 800773
Charlottesville, VA 22908-0773
Credit Card:
If you plan to use a credit card for your gift, you can call the University of Virginia Health Foundation at (434) 924-8432 and let them know you would like to designate a gift.
Online Form:
You may click on the button to the right, which will take you to an online form that you can fill out and submit directly to the University of Virginia Health Foundation.