Pediatric Hematology & Oncology Fellowship
From the Program Director:
Thank you for your interest in the Pediatric Hematology/Oncology Fellowship Program at the University of Virginia!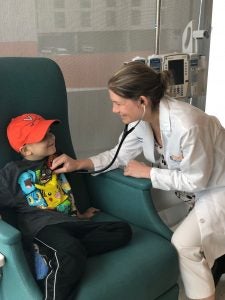 Our program is ACGME-accredited and offers excellent clinical hematology and oncology training.  Our faculty includes six full-time physicians and four nurse practitioners, all with diverse interests and backgrounds and strong leadership and education skills.  We serve a diverse patient population which affords a wealth of learning opportunities for fellows.  The UVA Medical Center employs a full range of pediatric subspecialists, offering a wide spectrum of multidisciplinary consultants.
We offer all of the required clinical opportunities for fellows, including but not limited to:
Inpatient and outpatient general hematology and oncology
Cancer survivorship
Sickle cell disease and other hemoglobinopathies
Hemophilia and other bleeding disorders
Bone marrow transplantation
Cancer immunotherapy
For additional information, please contact:
William C. Petersen Jr, MD
Assistant Professor
Program Director, Pediatric Hematology/Oncology Fellowship
Email:  wcp3g@virginia.edu
Karen Vest
Program Coordinator, Pediatric Hematology/Oncology Fellowship
Phone:  434-924-5105
Fax:  434-982-1927
Email:  kev5w@virginia.edu
University of Virginia Children's Hospital
Pediatric Hematology/Oncology
P.O. Box 800386
Charlottesville VA 22908