Program Overview
Curriculum:
The first year experience is primarily clinical, and includes the following rotations
Inpatient hematology and oncology – 5 months
Outpatient hematology and oncology – 3 months
Hematology rotation (including transfusion medicine, hematopathology, special coagulation) – 6 weeks
Bone marrow transplant – 6 weeks
Radiation Oncology – 2 weeks
Research Exploration – 2 weeks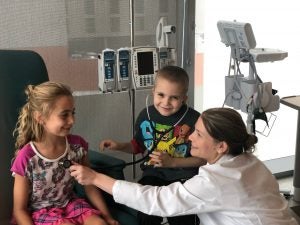 The second and third years of training are devoted primarily to research experience, and we offer strong research mentorship and abundant opportunities for basic science, translational, and clinical research projects.  Fellows are also required to participate in a clinical and translational certificate program, which includes four 2-week courses in statistics, epidemiology, and two electives in areas such as clinical research trial design, global health, and health policy.
Other Information:
Information on housestaff benefits, credentialing requirements, and other important information is found on the UVA Graduate Medical Education website (https://med.virginia.edu/gme).