Questions and Answers
What can I expect during my interview day?
Applicants are invited to dinner with the residents the evening before the interview. Residents select a local restaurant and do their best to return applicants to the hotel at a reasonable hour. Most applicants state that this is a fun venue and is extremely helpful in learning about the program.The interview day consists of morning conference, several faculty interviews, catered lunch, and a tour of the department. All applicants will meet individually with the program director, Dr. Kristen Atkins. In the morning, applicants will talk with a senior-level resident or fellow to gain a broader perspective on the program. Applicants can expect to have several opportunities to meet with residents and ask questions. The interview day usually concludes around 2:00 PM. Applicants should inform the program coordinator if scheduling conflicts arise.
What are the advantages and disadvantages to general sign-out?
The advantages of general sign-out are numerous, but one of the main benefits is that residents receive continual exposure to a variety of specimens. Therefore, residents are able to develop instant pattern recognition that is reinforced over the course of four years. Since each attending signs out a variety of specimens, residents are able to appreciate the "inexact" science of pathology. General sign-out also allows residents to gather a diverse selection of "tips and tricks" that are unique to each attending. A disadvantage to general sign-out is that early in training residents can feel overwhelmed by the incredible amount of baseline knowledge needed to sign-out so many different specimens. Fortunately, our updated curriculum factors this steep learning curve into account.
How many pathology specimens are processed per year?
| Specimen Type | Number |
| --- | --- |
| Surgical pathology specimens | 30,000 |
| Cytology specimens | 14,500 |
| Fine Needle Aspirates | 2,000 |
| Flow Cytometry | 4,800 |
| Cytogenetics | 18,000 |
| Chemistry | 5,500,000 |
| Hematology | 534,000 |
| Molecular Diagnostics | 64,000 |
| Coagulation Studies | 187,000 |
How often are residents on-call?
Since the recent ACGME updates, first year residents are never on-call but do cover Saturday shifts while on surgical pathology and autopsy pathology. Second year residents cover a week of home call for laboratory medicine once every five weeks. Third year residents cover surgical pathology call after 9:30 PM on the weekdays and every fifth Sunday. Fourth year residents each take two weeks of laboratory medicine call and also share frozen section call with the cytology and gyn-path fellows, which averages one week every two months.
Are residents provided with a travel allowance?
Each resident receives $1,500 per year to be used for educational purposes, including travel to national meetings. Residents who publish and/or present an abstract receive an additional $500 applied to their educational allowance as well as coverage of meeting registration fees. Residents also receive a complimentary membership to the Virginia Society for Pathology if the resident attends the annual meeting. Up to $1,000 a year in funds for independent research projects are available to residents.
When are residents required to pass USMLE Step 3?
The graduate medical education (GME) office requires all residents to pass Step 3 before beginning the third year of residency (PGY3). Pathology residents can use their educational allowance to pay for Step 3 ($750) as well as to cover the cost of review books and online question banks.The program encourages trainees to take step 3 their first year.
Are residents able to participate in public health efforts?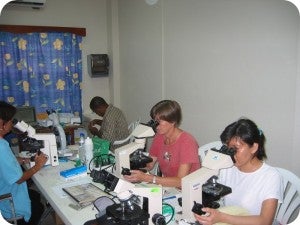 Residents are encouraged to pursue their interests in international health, as there is a dire need for pathologists in under-developed countries. Our program works with residents to help achieve their professional and personal goals in compliance with ACGME training requirements.
A number of the Surgical Pathology faculty are engaged in voluntary pathology programs abroad. Drs. Cathro and Frierson participated in a cervical carcinoma prevention campaign in Belize City, Belize in 2007 which encompassed education, screening and treatment. In 2008, they cleared a backlog of surgical pathology and cytopathology specimens in Vieux Fort, St. Lucia under the auspices of Pathologists Overseas. Dr. Frierson returned to Vieux Fort in 2009 along with a pathology resident to continue work at a tertiary care hospital. He also traveled to Nicaragua in 2009 with Grounds for Health, another volunteer organization which utilizes pathologists. Both Drs. Cathro and Frierson took advantage of a UVA program that immerses medical volunteers in a Guatamalan community in order to learn colloquial Spanish.
Dr. Mark Stoler is part of an ASCP group implementing HPV detection programs in African countries such as Rawanda.  Furthermore, a past resident from our department was involved in an infectious disease project in Tanzania.