Eli S. Williams, Ph.D.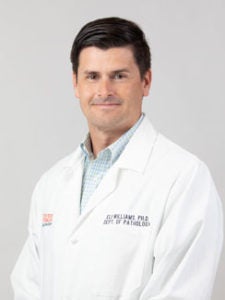 Associate Professor of Pathology
Director of Genomics and Cytogenomics
EDUCATION:
Graduate School: Colorado State University (Molecular Cell Biology), Fort Collins, CO
Postdoctoral Fellowship: Moffitt Cancer Center, Tampa, FL
Clinical Cytogenetics Fellowship: Emory University, Atlanta GA
Molecular Genetics Fellowship: Emory University, Atlanta GA
CLINICAL:
Clinical Cytogenetics and Genomics for cancer and constitutional disease.
RESEARCH:
The role of telomeres in maintaining genomic stability; genotype-phenotype correlation in constitutional disease; mechanisms of DNA repair; implementation of developing genomic technology into clinical practice.
REFERENCES:
Williams ES, Golden WL, Burns KM, LeGallo R, Thiagarajah S, Mahadevan MS: Prenatal Detection of Genome-WIde Uniparental Isodisomy Mosaicism. Cytogenetic and Genome Research 2014.
Williams ES and Hegde M. Implementing genomic medicine in pathology. Adv Anat Pathol. 2013 Jul;20(4):238-44. PMID: 23752086.
Mason-Suares H, Kim W, Grimmett L, Williams ES, Horner VL, Kunig D, Goldlust IS, Wu BL, Shen Y, Miller DT, Martin CL, Rudd MK. Density Matters: comparison of array platforms for detection of copy-number variation and copy-neutral abnormalities. Genet Med. 2013 Sep;15(9):706-12. PMID: 23558256.
Williams ES, Uhas KA, Bunke BP, Garber KB, Martin CL. Cleft palate in a multigenerational family with a microdeletion of 20p12.3 involving BMP2. Am J Med Genet A. 2012 Oct;158A(10):2616-20. PMID: 22965927.
Riggs ER, Church DM, Hanson K, Horner VL, Kaminsky EB, Kuhn RM, Wain KE, Williams ES, Aradhya S, Kearney HM, Ledbetter DH, South ST, Thorland EC, Martin CL. Towards an evidence-based process for the clinical interpretation of copy number variation. Clin Genet. 2012 May;81(5):403-12. PMID: 22097934.
Hayman TJ, Williams ES, Jamal M, Shankavaram UT, Camphausen K, Tofilon PJ. Translation initiation factor eIF4E is a target for tumor cell radiosensitization. Cancer Res. 2012 May 1;72(9):2362-72. PMID: 22397984.
Williams ES, Cornforth MN, Goodwin EH, Bailey SM. CO-FISH, COD-FISH, ReD-FISH, SKY-FISH. Methods Mol Biol. 2011;735:113-24. PMID: 21461816.
W. Jamal M, Rath BH, Williams ES, Camphausen K, Tofilon PJ. Microenvironmental regulation of glioblastoma radioresponse. Clin Cancer Res. 2010 Dec 15;16(24):6049-59. Epub 2010 Oct 29. Erratum in: Clin Cancer Res. 2011 Apr 1;17(7):2068. PMID: 21037023.
Kahali S, Sarcar B, Fang B, Williams ES, Koomen JM, Tofilon PJ, Chinnaiyan P: Activation of the unfolded protein response contributes toward the antitumor activity of vorinostat. Neoplasia 2010, 12:80-86.http://www.ncbi.nlm.nih.gov/pubmed/20072656.
McCord AM, Jamal M, Williams ES, Camphausen K, Tofilon PJ: CD133+ glioblastoma stem-like cells are radiosensitive with a defective DNA damage response compared with established cell lines. Clin Cancer Res 2009, 15:5145-5153. http://www.ncbi.nlm.nih.gov/pubmed/19671863. DOI: 10.1158/1078-0432.CCR-09-0263.
Williams ES, Klingler R, Ponnaiya B, Hardt T, Schrock E, Lees-Miller S, Meek K, Ullrich RL, Bailey SM: Telomere dysfunction and DNA-PKcs deficiency: characterization and consequence. Cancer Res 2009, 69:2100-2107.http://www.ncbi.nlm.nih.gov/pubmed/19244120. DOI: 10.1158/0008-5472.CAN-08-2854.
Williams ES, Bailey SM: Chromosome orientation fluorescence in situ hybridization (CO-FISH). Cold Spring Harb Protoc 2009, 2009:pdb.prot5269. http://www.ncbi.nlm.nih.gov/pubmed/20147245. DOI: 10.1101/pdb.prot5269.