Kristen A. Atkins, M.D.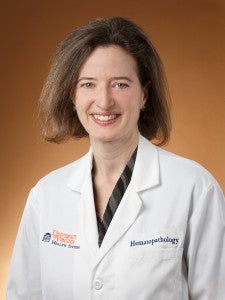 Professor of Pathology
Division Chief
EDUCATION:
Medical School: University of Vermont, Burlington, VT, MD
Residency: Stanford University
Surgical Pathology Fellowship: Stanford University
Cytopathology Fellowship: Virginia Commonwealth University
CLINICAL:
Surgical and cytopathology with a special interest in gynecologic and breast pathology.
RESEARCH:
Prognostic features in smooth muscle tumors of the uterus, improving staging analysis in ovarian carcinoma.
REFERENCES:
BOOK CHAPTERS:
Hendrickson M, Atkins KA, Kempson R. Histology for Pathologists 3rd Ed Editor S. Mills Chapter Uterus and Fallopian Tubes 2006
Brenin D and Atkins KA. Breast Cancer Atlas of Clinical Oncology Ed Winchester D. Chapter Unusual Breast Pathology 2006.
A current list of Dr. Atkins's journal publications can be obtained from PubMed.