M. Beatriz S. Lopes, M.D., Ph.D.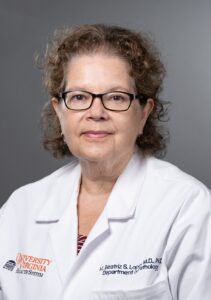 Professor of Pathology
Director of Neuropathology and Neuropathology Fellowship Program
Director of Autopsy
EDUCATION
:
Medical School: University of Sao Paulo School of Medicine, December 1982, MD, January 1993, PhD)
Residency: Anatomic Pathology, University of Sao Paulo School of Medicine, January 1983 – January 1986
Fellowship: Neuropathology, University of Sao Paulo School of Medicine, February 1986 – December 1988; Fellowship in Neuropathology, University of Virginia  Health Sciences Center, January 1989 – December 1992
CLINICAL
:
Neuropathology, Pituitary Pathology, Autopsy Pathology.
RESEARCH INTERESTS
:
My research interests focus on two major areas: 1- Hypothalamic, pituitary and peripheral interactions in the pathogenesis of pituitary adenomas; 2 – Molecular mechanisms of pathogenesis and invasion of brain tumors. Experimental techniques in our laboratory include cell culture, immunohistochemistry, immunofluorescence, and in situ hybridization.
REFERENCES
:
Lopes MB, Sloan E, Polder J. Mixed Gangliocytoma-Pituitary Adenoma: Insights on the Pathogenesis of a Rare Sellar Tumor. Am J Surg Pathol. 2017 May;41 (5):586-595. PubMed PMID: 28079576.
Louis DN, Wesseling P, Paulus W, Giannini C, Batchelor TT, Cairncross JG, Capper D, Figarella-Branger D, Lopes MB, Wick W, van den Bent M. cIMPACT-NOW update 1: Not Otherwise Specified (NOS) and Not Elsewhere Classified (NEC). Acta 2018 Mar;135(3):481-484. PubMed PMID: 29372318.
Louis DN, Giannini C, Capper D, Paulus W, Figarella-Branger D, Lopes MB, Batchelor TT, Cairncross JG, van den Bent M, Wick W, Wesseling P. cIMPACT-NOW update 2: diagnostic clarifications for diffuse midline glioma, H3 K27M-mutant and diffuse astrocytoma/anaplastic astrocytoma, IDH-mutant. Acta Neuropathol. 2018 Apr;135(4):639-642. PubMed PMID: 29497819.
Capper D, Jones DTW, Sill M, Hovestadt V, Schrimpf D, … Lopes B, … von Deimling A, Pfister SM. DNA methylation-based classification of central nervous system tumours. Nature. 2018 Mar 22;555(7697):469-474. PubMed PMID: 29539639.
Lopes MBS. Pathology of prolactinomas: any predictive value? Pituitary. 2020 Feb;23(1):3-8. doi: 10.1007/s11102-019-00997-1. PMID: 31641970 Review.
Lopes MBS. World Health Organization 2017 Classification of Pituitary Tumors. Endocrinol Metab Clin North Am. 2020 Sep;49(3):375-386. doi: 10.1016/j.ecl.2020.05.001. Epub 2020 Jul 15. PMID: 32741477.
Patel SH, Batchala PP, Mrachek EKS, Lopes MBS, Schiff D, Fadul CE, Patrie JT, Jain R, Druzgal TJ, Williams ES. MRI and CT Identify Isocitrate Dehydrogenase (IDH)-Mutant Lower-Grade Gliomas Misclassified to 1p/19q Codeletion Status with Fluorescence in Situ Hybridization. 2020 Jan;294(1):160-167. doi: 10.1148/radiol.2019191140. Epub 2019 Nov 12. PMID: 31714193.
BOOK CHAPTERS
:
Kleinschmidt-DeMasters BK, Lopes MBS. Histologic Features of Pituitary Adenomas and Sellar Region Masses. In: Practical Surgical Neuropathology: a Diagnostic Approach. 2nd Ed. Perry A, Brat DJ (Eds.), Elsevier, 2018, pp 453-492
Lopes MBS. Pituitary and Sellar Region. In: Histology for Pathologists. 5th Ed. Mills SE (Ed.). Wolters Kluwer, 2020, pp 270-299.
Lopes MBS. Tumors of the Pituitary Gland. In: Diagnostic Histopathology of Tumors. 5th Ed. Fletcher CDM (ed.) Elsevier, 2020, pp. 1211-1243.
Lopes MBS, VandenBerg SR. Tumors of the Central Nervous System. In: Diagnostic Histopathology of Tumors. 5th Ed. Fletcher CDM (ed.) Elsevier, 2020, pp. 2067-2171.
A more complete list of Dr. Lopes' publications can be obtained from PubMed.