Taylor Jenkins, M.D.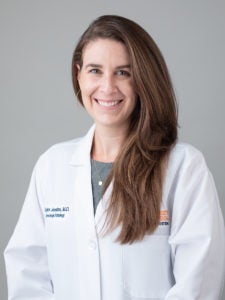 Assistant Professor of Pathology
Education:
Med School: Medical University of South Carolina, 2011-2015.
Residency: Anatomic and Clinical Pathology at the Hospital of the University of Pennsylvania, 2015-2019.
Fellowships: Gynecologic and Breast Pathology at the University of Virginia, 2019-2020; Cytopathology at the University of Virginia, 2020-2021.
Clinical Area:
General surgical pathology and cytopathology with subspecialization in gynecologic, breast, and perinatal pathology
Research:
My research interests include immunohistochemical and molecular analysis of gynecologic and breast malignancies in order to investigate therapeutic options, with a specific interest in uterine carcinosarcoma and vulvar neoplasia. Additionally, I am interested in studying maternal, fetal, and placental factors that contribute to neonatal morbidity and mortality.
Publications:
Malakoplakia of the vulva following lung transplantation. 
Austin Journal of In Vitro Fertilization. 
2017 September
; 
4
(2)
:1035
.