James H. Harrison, M.D., Ph.D.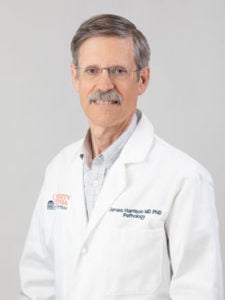 Professor of Pathology
EDUCATION:
Undergraduate: Furman University, Greenville SC
Medical School: Medical University of South Carolina MD, PhD (pharmacology), Charleston SC
Residency: Yale University (AP/CP), New Haven CT
CLINICAL:
Clinical Chemistry, Pathology Informatics
RESEARCH:
Yu M, Bazydlo LAL, Bruns DE, Harrison JH Jr. Streamlining quality review of mass spectrometry data in the clinical laboratory by use of machine learning. Arch Pathol Lab Med. Aug;143(8):990-998, 2019.
Zhang J, Kowsari K, Harrison JH, Lobo JM, Barnes LE. Patient2Vec: A personalized interpretable deep representation of longitudinal electronic health record. IEEE Access Oct;6:65333-65346, 2018.
McCall SJ, Branton PA, Blanc VM, Dry SM, Gastier-Foster JM, Harrison JH, Jewell SD, Dash RC, Obeng RC, Rose J, Mateski DL, Liubinskas A, Robb JA, Ramirez NC, Shea K. The College of American Pathologists Biorepository Accreditation Program: Results from the first 5 years. Biopreserv Biobank Feb;16(1):16-22, 2018.
Henricks WH, Karcher DS, Harrison JH Jr., Sinard JH, Riben MW, Boyer PJ, Plath S, Thompson A, Pantanowitz L. Pathology Informatics Essentials for Residents: A flexible informatics curriculum linked to Accreditation Council for Graduate Medical Education milestones. Arch Pathol Lab Med 141:113-124, 2017.
Batal I, Cooper G, Fradkin D, Harrison J, Moerchen F, and Hauskrecht M. An efficient pattern mining approach for event detection in multivariate temporal data. Knowledge and Information Systems (KAIS) 46(1):115-150, 2016.
Blackhall LJ, Read P, Stukenborg G, Dillon P, Barclay J, Romano A, Harrison J. CARE Track for advanced cancer: Impact and timing of an outpatient palliative care clinic. J Palliat Med. 19(1): 57-63, 2016.