Jenna Khan, M.D.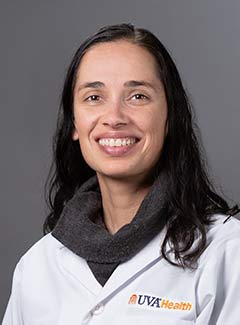 Assistant Professor of Pathology
Associate Medical Director, Blood Bank & Transfusion Medicine Services
Education:
Med School: University of Maryland School of Medicine, 2006-2010.
Residency: University of Washington Medical Center, Clinical Pathology, 2015-2018.
Fellowship: Dartmouth-Hitchcock Medical Center, Transfusion Medicine, 2019-2020.
Clinical Area:
Blood Banking and Transfusion Medicine.
Research:
Optimization of blood utilization and incorporation of informatics based solutions to improve efficiency and patient care.
Publications:
Gebregiorgis HT, Hasan RA, Liu Z, Phuong J, Stansbury LG, Khan J, Tsang HC, Vavilala MS, Hess JR. Drivers of blood use in paediatric trauma: A retrospective cohort study. Transfus Med. 2022 Oct;32(5):383-393. Epub 2022 Aug 14. PMID: 36205390.
Ruby KN, Khan J, Martin IW, Dunbar NM. Application of Standardized Residual Component Culture Criteria for Suspected Septic Transfusion Reactions Would Increase the Component Culturing Rate at a Single Academic Medical Center. Am J Clin Pathol. 2022 Aug 4;158(2):216-220. PMID: 35311936.
Ondrasik RM, Khan J, Szczepiorkowski ZM, Levy JJ, Dunbar NM. Passive order auditing associated with reductions in red blood cell utilization: National blood shortage experience. Transfusion. 2022 Aug;62(8):1551-1558. Epub 2022 Jul 11. PMID: 35815525.
Jacquot C, Mei Z, Khan J, Dunbar N, Delaney M, Ziman A. Current State and Positive Impact of Hospital-Based Blood Donor Centers in the United States. 2022 Feb;62(2):279-285. PMID: 34778986.
Hubbard JA, Geno KA, Khan J, Szczepiorkowski ZM, de Gijsel D, Ovalle AA, AlSalman AS, Gallagher TL, Johnston AA, Tibbetts AR, Vital SE, Cervinski MA, Nerenz RD. Comparison of two automated immunoassays for the detection of SARS-CoV-2 nucleocapsid antibodies. J Appl Lab Med. 2021 Mar 1;6(2):429-440. PMID: 32976593.
Khan J, Dunbar NM. Time to stop worrying about ABO incompatible cryoprecipitate transfusions in adults. Transfusion. 2021 Jan;61(1):1-4. PMID: 33616962
Seheult JN, Dunbar NM, Hess JR, Tuott EE, Bahmanyar M, Campbell J, Fontaine M, Khan J, Ko A, Mi J, Murphy MF, Nykoluk T, Poisson J, Raval JS, Shih A, Sperry JL, Staves J, Wong M, Yan MTS, Ziman A, Yazer M. Transfusion of blood components containing ABO-incompatible plasma does not lead to higher mortality in civilian trauma patients. Transfusion. 2020 Nov;60(11):2517-2528. PMID: 32901965
Metcalf RA, Khan J, Andrews J, Mayock D, Billimoria Z, Pagano MB. Severe ABO Hemolytic Disease of the Newborn Requiring Exchange Transfusion. J Pediatr Hematol Oncol. 2019 Nov;41(8):632-634. PMID: 30044350
Khan J, Chandler WL. Interference in the anti-Xa heparin activity assay due to hemolysis and icterus during pediatric extracorporeal life support. Artif Organs. 2019 Sep;43(9):880-887. PMID: 30964951
Khan J, Chandler WL. Discordant Partial Thromboplastin Time (PTT) vs Anti-Xa Heparin Activity. Am J Clin Pathol. 2019 Mar 1; 151(4):424-432. PMID: 30475952
Khan J, Schmidt RL, Spittal MJ, Goldstein Z, Smock KJ, Greene DN. Venous Thrombotic Risk in Transgender Women Undergoing Estrogen Therapy: A Systematic Review and Metaanalysis. Clin Chem. 2019 Jan; 65(1):57-66. PMID: 30602475
Khan J, Delaney M. Transfusion Support of Minority Patients: Extended Antigen Donor Typing and Recruitment of Minority Blood Donors. Transfus Med Hemother. 2018 Jul; 45(4):271-276. PMID: 30283277.
Khan J, Lieberman JA, Lockwood CM. Variability in, variability out: Best practice recommendations to standardize pre-analytical variables in the detection of circulating and tissue microRNAs. Clin Chem Lab Med. 2017 May 1;55(5):608-621. PMID: 28306519
Merrill AE, Khan J, Dickerson JA, Holmes DT, Harris NS, Greene DN. Method-to-method variability in urine albumin measurements. Clin Chim Acta. 2016; 460:114-119. PMID: 27315746
Khan J, Pritchard CC, Martins RG. Tissue is the Issue for Diagnosis of EGFR T790M J Thorac Oncol. 2016 Jul;11(7): e91-e92. PMID: 27339415
Book Chapters:
Khan J, Burgstaler EA. Apheresis Principles and Practice 4th Edition, Volume 1: Therapeutic Apheresis. Chapter 2: Current instrumentation for therapeutic apheresis. AABB Press, 2020.