Nadine S. Aguilera, M.D.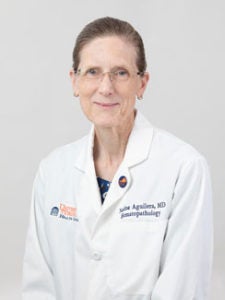 Professor of Pathology
Section Head, Hematopathology
Director, Hematopathology Fellowship Program
EDUCATION:
Medical School: Uniformed Services University of the Health Sciences, Bethesda, MD 1987
Residency: Geisinger Medical Center, Danville, PA (Anatomic/Clinical Pathology)
Fellowship: University of Pittsbugh Medical Center (Hematopathology)
CLINICAL:
Pathology; Hematopathology.
RESEARCH:
Interest in lymphoma and spleen, with a special interest in Castleman disease.
REFERENCES:
BOOK CHAPTERS:
Multiple chapters in Diagnostic Pathology: Spleen, Amirsys press 2014, including Hereditary spherocytosis, HIV in spleen, Castleman disease, Congenital splenic abnormalities, Gamna-gandy bodies, Hemophagocytic syndrome, Vascular lesions and other entities.
Zhang X and Aguilera NS. Lymph node. In Handbook of Practical Immunohistochemistry: Frequently Asked Questions. Lin F, Prichard JW, eds. Springer, New York, 2011, pp 493-500.
A current list of Dr. Aguilera's peer-reviewed publications is available from PubMed.