Julia C. Iezzoni, M.D.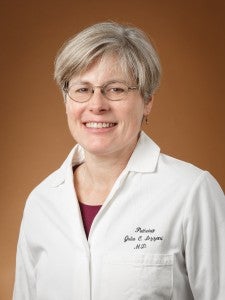 Professor, Surgical Pathology
EDUCATION:
Washington University School of Medicine, MD 1987
1987 – 1989: Washington University School of Medicine, St. Louis, MO – Anatomic Pathology Residency (PGY 1-2)
1989 – 1990: University of Minnesota Hospital and Clinic, Minneapolis, MN – Surgical Pathology Fellowship (PGY 3)
1990 – 1991: Yale-New Haven Hospital, New Haven, CT – Surgical Pathology fellowship (PGY 4) Gynecologic Pathology Fellowship, concurrent (PGY 4)
1991 – 1992: Univ. of Oklahoma Health Sciences Center, Oklahoma City, OK – Molecular Sugical Pathology Fellowship (PGY 5)
CLINICAL:
Surgical pathology with a special interest in liver pathology, including liver transplant pathology
RESEARCH:
The role of parathyroid hormone-related peptide and its receptor as an autocrine/paracrine effector system in human neoplasia

Technical aspects of immunohistochemical methodology
REFERENCES:
A current list of Dr. Iezzoni's journal publications can be obtained from PubMed.