Melinda Poulter, Ph.D.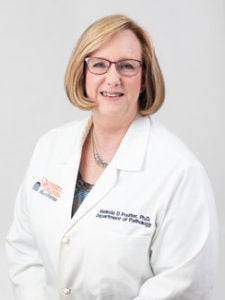 Associate Professor of Pathology
Director, Clinical Microbiology
CONTACT INFORMATION:
Telephone: (434) 924-8059
Email: mdp3s@virginia.edu
EDUCATION:
Graduate School: PhD, University of North Texas
Post-Doctorial Fellowship:  Fellowship in Clinical and Public Health Microbiology, UCLA Medical Center
CLINICAL:
Clinical Microbiology and Molecular Infectious Disease Testing
RESEARCH:
Research interests lie in the area of clinical microbiology, its associated diagnostics and therapy as it relates to the divisions of Virology, Bacteriology, Mycology, Parasitology and Infectious Disease Serology.  Specific interests are related to the introduction of molecular microbiology diagnostics to working clinical and public health microbiology laboratories.
REFERENCES:
Horner, L.M., Poulter, M.D., Brenton, J.N., Turner, R.B.. Acute flaccid paralysis associated with novel enterovirus C105.  Emerg Infect Dis. 2015 Oct.
Abdelhamed, A.M., Zhang, S.X., Watkins, T., Morgan, M.A., Wu, F., Buckner, R.J., Fuller, D.D., Davis, T.E., Salimnia, H., Fairfax, M.R., Lephart, P.R., Poulter, M.D., Regi, S.B., Jacobs, M.R.. Multicenter Evaluation of Candida QuickFISH BC for Identification of Candida Species Directly from Blood Culture Bottles.  Journal of Clinical Microbiology. 2015 May;53(5):1672-6.

Mathers, A.J.

1

,

Poulter, M.D., Dirks D.C., Carroll J., Sifri C.D., Hazen K.C., Clinical Microbiology Costs for Methods of Active Surveillance for Klebsiella pneumoniae Carbapenemase-Producing Enterobacteriaceae. Infection Control and Hospital Epidemiology. 2014; 35(4):350-5.
Eby, J.C., Gray, M.C., Warfel, J.M., Paddock, C.D., Jones, T.F., Day, S..R, Bowden, J., Poulter, M.D., Donato, G.M., Merkel, T.J., Hewlett, E.L.. Quantification of the adenylate cyclase toxin of Bordetella pertussis in vitro and during respiratory infection. Infection and Immunity. 2013 May;81(5):1390-8.
Miller, N.S., Yen-Lieberman, B., Poulter, M.D., Tang, Y.W., Granato, P.A., Comparative clinical evaluation of the IsoAmp(®) HSV Assay with ELVIS(®) HSV culture/ID/typing test system for the detection of herpes simplex virus in genital and oral lesions. J Clin Virol. 2012 Aug;54(4):355-8.
Novak-Weekley, S.M., Marlowe, E.M., Poulter, M.D., Dwyer, D., Speers, D., Rawlinson, W., Baleriola, C., Robinson, C.C., Evaluation of the Cepheid Xpert Flu Assay for rapid identification and differentiation of influenza A, influenza A 2009 H1N1, and influenza B viruses. Journal of Clinical Microbiology 2012 May;50(5):1704-10.   

Kim, H.J.*, Tong, Y., Tang, W., Quimson, L., Cope, V.A., Pan, X., Motre, A., Kong, R., Hong, J., Kohn, D., Miller, N.S., Poulter, M.D., Kong, H., Tang, Y.W., Yen-Lieberman, B.  A rapid and simple isothermal nucleic acid amplification test for detection of herpes simplex virus types 1 and 2.  Journal of Clinical Virology, 2011; 50(1):26-30. 2009.

Wiley, D.J.*, Huh, J., Rao, J.Y., Chang, C., Goetz, M., Poulter, M.D., Masongsong, E., Chang, C.I., Bernard, H.U. Methylation of Human Papillomavirus Genomes in Cells of Anal Epithelia of HIV-Infected Men. Journal of Acquired Immune Deficiency Syndromes. 2005; Jun 1;39(2):143-151.   
Poulter, M.D.*, Shapiro, A.M., Cherry, J.D., McAvin, J.C., Lyon, W, Huff, W.B., Atchley, D.H., Lohman, K.L., DeVille, J.G.. Real-time fluorescence polymerase chain reaction (PCR) identification of Streptococcus pneumoniae from pleural fluid and tissue. Scandinavian Journal Infectious Diseases. 2005; 37(5):391-2.
Arens, M.Q.*, Mundy, L.M., Amsterdam, D., Barrett, J.T., Bigg, D., Bruckner, D., Hanna, B., Prince, H., Purington, T., Hanna, T., Hewitt, R., Kalinka, C., Koppes, T., Maxwell, S., Moe, A., Doymaz, M., Poulter, M.D., Saber-Tehrani, M., Simard, L., Wilkins-Carmody, D., Vidaver, J., Berger, C., Davis, A.H., Alzona, M.T.  Preclinical and clinical performance of the Efoora test, a rapid test for detection of human immunodeficiency virus-specific antibodies. Journal of Clinical Microbiology. 2005; 43(5):2399-406. 
Poulter, M.D.* and Hinnebusch, C.J.  Turicella otitidis in a young adult with otitis externa. Infectious Disease in Clinical Practice. 2005; 13:1–2.
Linscott, A.J.*, Poulter, M.D., Morris, R.J., and Bruckner, D.A. Legionella pneumophila serogroup 4 isolated from joint tissue. Journal of Clinical Microbiology. 2004; 42(3):1365-6. 
Poulter, M.D.*, and Hindler, J.F. Challenges in antimicrobial susceptibility testing and reporting.  Laboratory Medicine, 2002; 33:877-884.
Chandler, L.J.*, Poulter, M., Reisner, B., Woods, G. Clinical evaluation of the Vitek automated system with cards GNS 122 and 127 and VTK-R07.01 software for antimicrobial susceptibility testing of Pseudomonas aeruginosa. Diagnostic Microbiology and Infectious Disease. 2002; Jan;42(1):71-3.