Henry F. Frierson, Jr., M.D.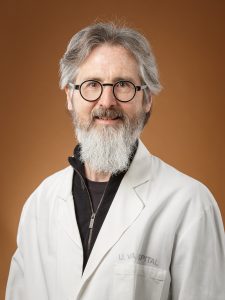 Professor of Pathology
Director of Cytopathology
EDUCATION:
College: Davidson College, 1977, B.S.
Medical School: Medical University of South Carolina , 1981, M.D.
Residency: University of Virginia (AP/CP), 1981-1985
CLINICAL:
I provide service in Cytopathology and Surgical Pathology.In addition,I have performed international volunteer services in pathology in the following countries: St. Lucia, Peru, Belize, and Nicaragua.
RESEARCH:
I have a special interest in mouse models of prostate cancer, and have characterized the phenotypes of about a dozen genotypes that include genetic alterations of PTEN,MYC,TGFBR2,SMAD2,APC,and AKT, among others.
REFERENCES:
Bjerke GA, Yang YS, Frierson HF, Paschal BM, Wotton D: Activation of Akt signaling in prostate induces a TGFB-mediated restraint on cancer progression and metastasis. Oncogene (in press)
Overdevest JB, Knubel KH, Duex JB, Thomas S, Nitz MD, Harding MA, Smith SC, Frierson, HF, Conaway M, Theodorescu D: CD24 expression is important in male urothelial tumorigenesis and metastasis in mice and is androgen regulated. Proc Natl Acad Sci USA 109:E3588-E3596, 2012.
Persson M, Andren Y, Moskaluk CA, Frierson HF Jr, Cooke SL, Futreal PA, Kling T, Nelander S, Nordkvist A, Persson F, Stenman G: Clinically significant copy number alterations and complex rearrangements of MYB and NFIB in head and neck adenoid cystic carcinoma. Genes Chromosomes Cancer 51: 805-817, 2012.
Zhang Y, Gong M, Yuan H, Park HG, Frierson HF, Li H: Chimeric transcript generated by cis-splicing of adjacent genes regulates prostate cancer cell proliferation. Cancer Discov 2:598-607, 2012.
DeGraff DJ, Clark PE, Cates JM, Yamashita H, Robinson VL, Yu X, Smolkin ME, Chang SS, Cookson MS, Herrick MK, Shariat SF, Steinberg GD, Frierson HF, Wu X-R, Theodorescu D, Matusik RJ: Loss of the urothelial differentiation marker FOXA1 is associated with high grade, late stage bladder cancer and increased tumor proliferation. PloS One 7:e366669, 2012.
Moskaluk CA, Baras AS, Mancuso SA, Fan H, Davidson RJ, Dirks DC, Golden WL, Frierson HF Jr: Development and characterization of xenograft model systems for adenoid cystic carcinoma. Lab Invest 91: 1480-1490, 2011.
Brill LB 2nd, Kanner WA, Fehr A, Andren Y, Moskaluk CA, Loning T, Stenman G, Frierson HF Jr: Analysis of MYB expression and MYB-NFIB gene fusions in adenoid cystic carcinoma and other salivary neoplasms. Mod Pathol 24: 1169-1176, 2011.
Fehr A, Kovacs A, Loning T, Frierson H Jr, van den Oord J, Stenman G: The MYB-NFIB gene fusion-a novel genetic link between adenoid cystic carcinoma and dermal cylindroma. J Pathol 224: 322-327, 2011.
A complete list of Dr. Frierson's peer-reviewed publications can be obtained from PubMed.