Thomas J. Braciale, M.D., Ph.D.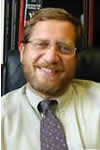 Professor of Pathology and Microbiology
EDUCATION:
Graduate School: University of Pennsylvania, Philadelphia, PA, PhD, Microbiology, 1974
Medical School: University of Pennsylvania School of Medicine, Philadelphia, PA, MD, 1975
Graduate Medical Education: Intern/Resident in Pathology, Washington University School of Medicine, St. Louis, MO, 1975-76
Postdoctoral: Visiting Fellow, Australian National University, John Curtin School of Medical Research, Canberra, Australia, 1976-78
RESEARCH:
Our research on Influenza focuses on the response of CD8+ T lymphocytes — Cytolytic T Lymphocytes (CTL) or killer T cells — to Influenza infection. We want to understand three main things: 1) how CTL are generated during infection; 2) how CD8+ T cells interact with the principal antigen presenting cells of the body (i.e. dendritic cells) to produce those CTL; and 3) how the interplay between Influenza virus and the CTL response contributes to lung injury during infection. We use modern techniques of cell and molecular biology — including T cell receptor transgenic murine models and virus reverse genetics (to alter the structure of the Influenza genome) in order to understand how specific virus genes (and their products), as well as CTL products (e.g. cytokines) operate to clear infection and/or produce disease. Recently, we have extended this work to include avian influenza virus ("Bird Flu") infection in order to define the mechanisms of lethal infection produced by this virus.
REFERENCES:
A more complete list of Dr. Braciale's publications can be obtained from PubMed