Frederick G. Hayden, M.D.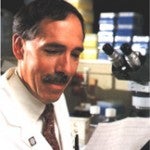 Professor of Medicine and Pathology
Clinical:
Diagnostic and clinical virology, infectious diseases and antiviral chemotherapy.
RESEARCH:
Our research activities have focused on the application of antiviral agents for the prevention and treatment of respiratory viral infections. The scope of studies ranges from in vitro assays of viral susceptibility and antiviral mechanisms of action to clinical trials involving experimentally induced and naturally occurring infections. For example, prior work established the effectiveness of intranasal interferons in preventing transmission of rhinovirus colds, the safety and pharmacology of rimantadine HCI, the transmission of drug- resistant influenza A viruses in families, the anti-rhinovirus mechanism of action of soluble ICAM-1, and the antiviral activity and clinical use of influenza neuraminidase inhibitors. Areas of current investigation include application of nucleic acid hybridization to study the pathogenesis of rhinovirus infections and picornavirus epidemiology, determining the phenotypic and genotypic basis of antiviral drug resistance in rhino and influenza viruses, and clinical testing of the several candidate antiviral agents for influenza and rhinovirus infections.
REFERENCES:
Wetherall NT, Trivedi T, Zeller J, Hodges-Savola C, McKimm-Breschkin JL, Zambon M, Hayden FG.  Evaluation of neuraminidase enzyme assays using different substrates to measure susceptibility of influenza virus clinical isolates to neuraminidase inhibitors:  report of the neuraminidase inhibitor susceptibility network.  J Clin Microbiol 41(2):742-750, 2003.
Zambrano JC, Carper HT, Rakes GP, Patrie J, Murphy DD, Platts-Mills TAE, Hayden FG, Gwaltney JM Jr, Hatley TK, Owens AM, and Heymann PW.  Experimental rhinovirus challenges in adults with mild asthma:  Response to infection in relation to IgE.  J Allergy Clin Immunol  111: 1008-16, 2003.
Hayden FG, Herrington DT, Coats TL, Kim K, Cooper EC, Villano SA, Liu S, Hudson S, Pevear DC, Collett M, McKinlay M, and the Pleconaril Respiratory Infection Study Group. Efficacy and safety of oral pleconaril for treatment of colds due to picornavirus in adults:  results of 2 double-blind, randomized, placebo-controlled trials.  Clin Infect Dis 36: 1523-32, 2003.
Ison MG, Hayden FG, Kaiser L, and Boeckh M. Rhinovirus infections in hematopoietic stem cell transplant recipients with pneumonia.  Clin Infect Dis 36(9): 1139-43, 2003.
McKimm-Breschkin J, Trivedi T, Hampson A, Hay A, Klimov A, Tashiro M, Hayden F, Zambon M on behalf of the Neuraminidase Inhibitor Susceptibility Network (NISN).  Neuraminidase sequence analysis and susceptibilities of influenza virus clinical isolates to zanamivir and oseltamivir.  Antimicrob Agents and Chemother  47(7): 2264-2272, 2003.
Kaiser L, Wat C, Mills T, Mahoney P, Ward P, and Hayden F. Impact of oseltamivir treatment on influenza-related lower respiratory tract complications and hospitalizations. Arch Intern Med 163: 1667-1672, 2003.
Ison MG, Gnann JW, Jr, Nagy-Agren S, Treanor J, Paya C, Steigbigel R., Elliott M, Weiss HL, and Hayden FG for the NIAID Collaborative Antiviral Study Group.  Safety and efficacy of nebulized zanamivir in hospitalized patients with serious influenza.  Antiviral Therapy 8:183-190, 2003.
Chi DH, Hendley JO, French P, Arango P, Hayden FG and Winther B.  Nasopharyngeal reservoir of bacterial otitis media and sinusitis pathogens in adults during wellness and viral respiratory illness.  American Journal of Rhinology 17(4):209-214, 2003.
Hayden FG, Turner RB, Gwaltney JM, Chi-Burris K, Gersten M, Hsyu P. Patick AK, Smith GJ III, and Zalman LS.  Phase II, randomized, double-blind, placebo-controlled studies of ruprintrivir nasal spray 2-percent suspension for prevention and treatment of experimentally induced rhinovirus colds in healthy volunteers.  Antimicrob Agents and Chemother 47(12): 3907-3916, 2003.
Hayden FG, Belshe R, Villanueva C, Lanno R, Hughes C, Small I, Dutkowski R, Ward P, and Carr J.  Management of influenza in households:  a prospective, randomized comparison of oseltamivir treatment with or without post-exposure prophylaxis.  J Infect Dis 189: 440-449, 2004.
Kriesel JD, White A, Hayden FG, Spruance SL, Petajan J. Multiple sclerosis attacks are associated with picornavirus infections. Multiple Sclerosis Journal 11:2-6, 2004.
Kiso M, Mitamura K, Sakai-Tagawa Y, Shiraishi K, Kawakami C, Kimura K, Hayden FG, Sugaya N, Kawaoka Y. Resistant influenza A viruses in children treated with oseltamivir: descriptive study. Lancet 364:759-765, 2004.
Mishin VP, Nedyalkova MS, Hayden FG, and Gubareva LV.  Protection afforded by intranasal immunization with the neuraminidase-lacking mutant of influenza A virus in a ferrert model.  Vaccine, 23:2922-2927, 2004.
Ison MG, Campbell V, Rembold C, Dent J, and Hayden FG.  Cardiac findings during uncomplicated influenza in ambulatory adults.  Clin Infect Dis 40:415-422, 2005.
Hendley JO, Hayden FG, and Winther B.  Weekly point prevalence of Streptococcus pneumoniae, Hemophilus influenzae and Moraxella catarrhalis in the upper airways of normal young children: effect of respiratory illness and season.  APMIS.  113 (3):213-20, March 2005.
Mishin VP, Novikov D, Hayden FG, Gubareva LV. Effect of hemagglutinin glycosylation on influenza virus susceptibility to neuraminidase inhibitors. J Virol, 79 (19):12416-12424, 2005.
Pevear DC, Hayden FG, Demenczuk TM, et al. Relationship of pleconaril susceptibility and clinical outcomes  in treatment of common colds caused by rhinoviruses. Antimicrob Agents Chemother 49(11):4492-99, Nov. 2005.
Mishin VP, Hayden FG, Gubareva LV.  Influenza antiviral resistance: susceptibility to novel neuraminidase inhibitors. Antimicrob Agents Chemother 49(11):4515;2005.
World Health Organization Writing Group (Hayden FG). Nonpharmaceutical interventions for pandemic influenza, international measures. Emerg Infect Dis. 12:81-87;2006.
World Health Organization Writing Group (Hayden FG). Nonpharmaceutical interventions for pandemic influenza, national and community measures. Emerg Infect Dis. 12:88-94; 2006.
Barroso L, Treanor J, Gubareva V, Hayden FG. Efficacy and tolerability of the oral neuraminidase inhibitor peramivir in experimental human influenza: randomized, controlled trials for prophylaxis and treatment. Antiviral Therapy 10 (8) 901-910; 2006.
Ison MG, Mishin VP, Braciale TJ, Hayden FG, and Gubareva LV. Comparative activities of oseltamivir and A-322278 in immunocompetent and immunocompromised murine models of influenza virus infection. JID 193:765-72; 2006.
Ison MG, Gubareva LV, Atmar RL, Treanor J, Hayden FG. Recovery of drug-resistant influenza virus from immunocompromised patients: a case series. JID 193:760-4; 2006.

CHAPTERS:
Hayden FG. Update on influenza and rhinovirus infections. In:Mills J, Volberding PA, Corey L (eds). Antiviral Chemotherapy 5 New Directions for Clinical Application and Research.Kluwer Academic/Plenum Publishers, New York, NY, 1999, pp 55-67.
Kaiser L, Hayden FG. Hospitalizing Influenza in Adults. In: Remington JS, Swartz MN (eds). Current Clinical Topics in Infectious Diseases, Blackwell Science, Malden, MA, 1999, pp112-134.
Hayden, FG. Influenza. Chapter 379. In: Goldman L, and Bennett JC (eds). Cecil Textbook of Medicine, 21st Edition, W. B. Saunders Company, Philadelphia, PA, 1999, pp 1779-1800.
INVITED REVIEWS:
Gubareva LV, Kaiser L, Hayden, FG. Influenza virus neuraminidase inhibitors. Lancet 355:827-835; 2000.
OTHER:
Pitkaranta A, Hayden FG. Respiratory Viruses and Acute Otitis Media. Letter: N Engl J Med 340:2001, 1999. Various authors. Advances in the prophylaxis and treatment of influenza illness. (Based on a presentation by Frederick G. Hayden, MD) Am J Managed Care 6,(5 suppl):S247-254; 2000.