Ifeyinwa E. Obiorah, M.D., Ph.D.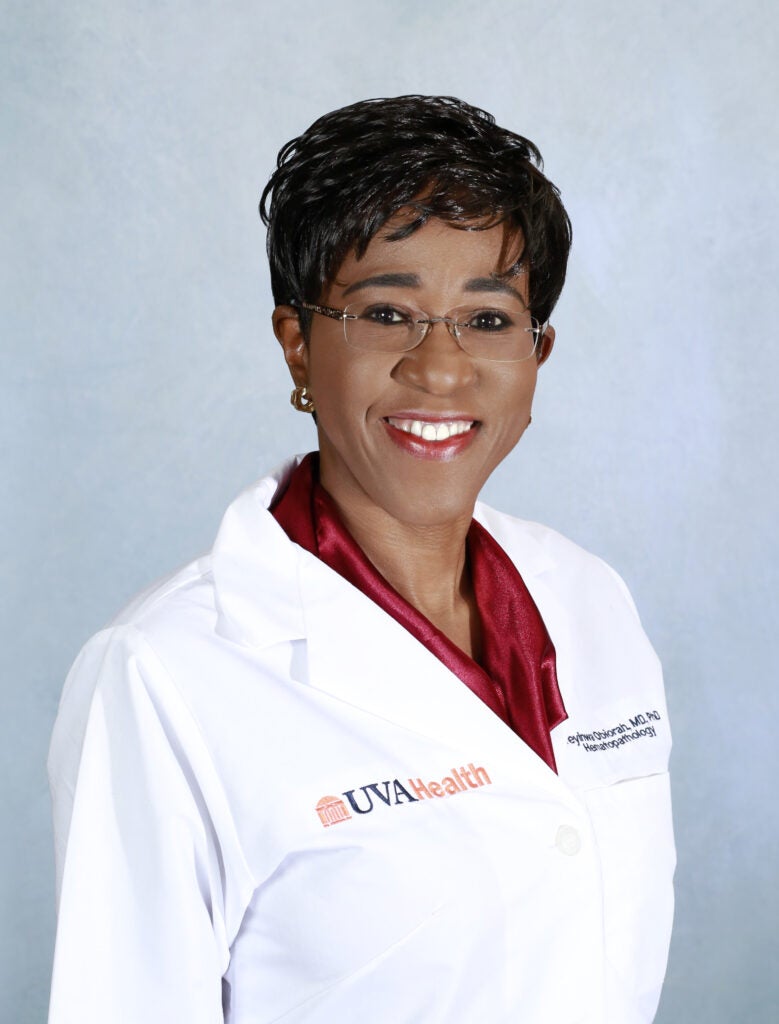 Assistant Professor of Pathology
EDUCATION:
Medical School: Nnamdi Azikiwe University, College of Health Sciences, Nigeria
Residency: Georgetown University (Anatomic/Clinical pathology)
Fellowship: National Institute of Health (Hematopathology)
CLINICAL:
Pathology; Hematopathology
Justice, Equity, Diversity, Inclusion Strategist for the Department of Pathology.
Ifey has an enthusiasm for contributing to diversity, inclusion, and equity by promoting underrepresented groups. Ifey participates in the programs that help underrepresented students to choose a career path either in medicine or STEM. She is one of the faculty mentors for the UVA House staff Council for Diversity and Inclusion for the academic year 2022-2023. She is involved in the organization and celebration of cultures of multi-diverse groups including Juneteenth. Her primary aim is to create a safe space and an all-inclusive environment for all pathology staff and trainees and promote community outreach to ensure equitable patient care.
RESEARCH:
Molecular characterization of T cell lymphomas, with a special interest in cutaneous lymphomas.
REFERENCES:
Obiorah IE, Francischetti IMB, Wang HW, Ahn IE, Wang W, Raffeld M, Kreitman RJ, Wiestner A, Calvo KR. Concurrent chronic lymphocytic leukemia/small lymphocytic lymphoma and hairy cell leukemia: clinical, pathologic and molecular features. Leuk Lymphoma. 2020 Dec;61(13):3177-3187. doi: 10.1080/10428194.2020.1797007.
Obiorah IE, Chahine J, Park BU, Ko K, deGuzman J, Kallakury B. Well differentiated arginase-1 negative hepatocellular carcinoma. Transl Gastroenterol Hepatol. 2019 Sep 3;4:66. doi: 10.21037/tgh.2019.08.01.
Obiorah IE, Ozdemirli M. Clear cell sarcoma in unusual sites mimicking metastatic melanoma. World J Clin Oncol. 2019 May 24;10(5):213-221. doi: 10.5306/wjco.v10.i5.213.
Obiorah IE, Chahine J, Ko K, Park BU, deGuzman J, Kallakury B. Prognostic Implications of Arginase and Cytokeratin 19 Expression in Hepatocellular Carcinoma After Curative Hepatectomy: Correlation With Recurrence-Free Survival. Gastroenterology Res. 2019 Apr;12(2):78-87. doi: 10.14740/gr1156.
Turnquist C, Beck JA, Horikawa I, Obiorah IE, Von Muhlinen N, Vojtesek B, Lane DP, Grunseich C, Chahine JJ, Ames HM, Smart DD, Harris BT, Harris CC. Radiation-induced astrocyte senescence is rescued by Δ133p53. Neuro Oncol. 2019 Mar 18;21(4):474-485. doi: 10.1093/neuonc/noz001.
Obiorah IE, Henao Velasquez A, Özdemirli M. The Clinicopathologic Spectrum of IgG4-Related Disease. Balkan Med J. 2018 Jul 24;35(4):292-300. doi: 10.4274/balkanmedj.2018.0809.
Obiorah IE, Ozdemirli M. Intravascular Large B-Cell Lymphoma Mimicking Temporal Arteritis. Case Rep Rheumatol. 2018 Apr 29;2018:5364985. doi: 10.1155/2018/5364985.
Obiorah IE, Ozdemirli M. Incidental Metastatic Meningioma Presenting as a Large Liver Mass. Case Reports Hepatol. 2018 May 7;2018:1089394. doi: 10.1155/2018/1089394.
Obiorah IE, Ozdemirli M. Myeloid sarcoma with megakaryoblastic differentiation presenting as a breast mass. Hematol Oncol Stem Cell Ther. 2018 Sep;11(3):178-182. doi: 10.1016/j.hemonc.2018.03.001.
Obiorah IE, Kyrillos A, Ozdemirli M. Synchronous Leydig Cell Tumor and Seminoma in the Ipsilateral Testis. Case Rep Urol. 2018 Feb 19;2018:8747131. doi: 10.1155/2018/8747131.
Obiorah IE, Velasquez AH, Kallakury B, Özdemirli M. Primary Langerhans Cell Histiocytosis of the Extrahepatic Bile Duct Occurring in an Adult Patient. Balkan Med J. 2018 Nov 15;35(6):437-439. doi: 10.4274/balkanmedj.2017.1730.
Obiorah IE, Brenholz P, Özdemirli M. Primary Clear Cell Sarcoma of the Dermis Mimicking Malignant Melanoma. Balkan Med J. 2018 Mar 15;35(2):203-207. doi: 10.4274/balkanmedj.2017.0796.
Obiorah IE, Johnson L, Ozdemirli M. Primary mucosa-associated lymphoid tissue lymphoma of the liver: A report of two cases and review of the literature. World J Hepatol. 2017 Jan 28;9(3):155-160. doi: 10.4254/wjh.v9.i3.155.