Scott Vande Pol, M.D., Ph.D.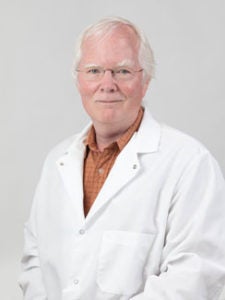 Associate Professor of Pathology
Education:
1985: M.D., University of California, San Diego
1985: Ph.D., University of California, San Diego
1985-1989: Resident in Pathology, National Cancer Institute, National Institutes of Health,  Bethesda, MD 20892
1989-1993: Postdoctoral Fellow, Laboratory of Tumor Virus Biology, National Cancer Institutes, Bethesda, MD 20892
Research:
Our studies of the BPV-1 E6 oncoprotein found that it associated with a cellular regulatory adapter molecule called paxillin.  We showed that paxillin was required for the tyrosine phosphorylation of Focal Adhesion Kinase, a central regulator of integrin signaling, cell attachment and migration.  We now have evidence that paxillin is required for the activity of many cancer-associated oncoproteins. We are elucidating the role of paxillin in cancer signal transduction and survival.
A second project has been devoted to understanding of the mechanism by which E6 oncoproteins activate the ubiquitin mediated degradation of tumor supressor proteins, such as p53. We are engaged in a collaboration to solve the solution structure of the E6.   In the process of these studies, we identified interaction motifs on E6 that allow for the interaction of E6 with tumor supressors.    We have recently identified a new cellular protein that is targeted for degradation by E6 together with a cellular ubiquitin ligase.  This new target is a tyrosine phosphatase about which little is known.  We suspect that by targeting this phosphatase for degradation, that E6 manipulates cellular signaling to facilitate the viral life cycle.  Given that human HPV containing tumors all express E6, this phosphatase may prove to be an important target in the development of cancers, both viral positive and negative.
Recent Publications
Brimer N, Vande Pol SB: Papillomavirus E6 PDZ interactions can be replaced by repression of p53 to promote episomal human papillomavirus genome maintenance. J Virol 2014, 88:3027-3030.http://www.ncbi.nlm.nih.gov/pubmed/24352452. DOI: 10.1128/JVI.02360-13.

Brimer N, Wade R, Vande Pol S: Interactions between E6, FAK, and GIT1 at paxillin LD4 are necessary for transformation by bovine papillomavirus 1 E6. J Virol 2014, 88:9927-9933.http://www.ncbi.nlm.nih.gov/pubmed/24942580. DOI: 10.1128/JVI.00552-14.

Vande Pol SB, Klingelhutz AJ: Papillomavirus E6 oncoproteins. Virology 2013, 445:115-137.http://www.ncbi.nlm.nih.gov/pubmed/23711382. DOI: 10.1016/j.virol.2013.04.026.