James W. Patterson, M.D.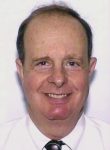 Professor of Pathology and Dermatology
EDUCATION:
Medical College of Virginia – Virginia Commonwealth University , MD, 1972
Medical College of Virginia, Rotating Intern in Medicine, 1972 – 1973
Medical College of Virginia, Resident in Dermatology, 1973 – 1976
Armed Forces Institute of Pathology, Washington, DC, Fellow in Dermatopathology, 1979 -1980
CLINICAL:
Dermatopathology
RESEARCH:
Differential diagnosis in dermatopathology, with special interests in malignant melanoma, cutaneous T cell lymphoma, and other cutaneous malignancies, panniculitis, opportunistic infections, and immunofluorescence studies.
REFERENCES
Larson KN, Gagnon AL, Darling MD, Patterson JW, Cropley TG: Nephrogenic Systemic Fibrosis Manifesting a Decade After Exposure to Gadolinium. JAMA Dermatol 2015, http://www.ncbi.nlm.nih.gov/pubmed/26017458. DOI: 10.1001/jamadermatol.2015.0.