Nicholas Larkey, Ph.D.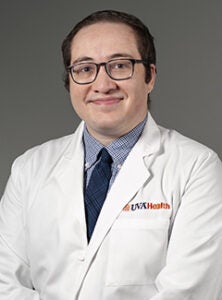 Assistant Professor of Pathology
Education:
Graduate School: PhD in Analytical Chemistry from Oregon State University 2017
Postdoctoral Fellowship:  Clinical Diagnostics at University of Kansas Cancer Center 2019
Fellowship: Clinical Chemistry, Mayo Clinic 2021
Clinical Area:
Clinical Chemistry, Point of Care testing, Davis Lab Immunology
Research:
Clinical Chemistry, Diagnostic Immunology, Assay Development, Biosensor Design and Optimization
Publications:
Fatica EM, Larkey NE, Gleue CA, Willrich MAV. A Case of Unexpected Hyperglycemia. Clin Chem. 2021 Aug 5;67(8):1056-1059. doi: 10.1093/clinchem/hvab089. PMID: 34352084.
Larkey NE, Phillips JL, Jang HS, Kolluri SK, Burrows SM. Small RNA Biosensor Design Strategy To Mitigate Off-Analyte Response. ACS Sens. 2020 Feb 28;5(2):377-384. doi: 10.1021/acssensors.9b01968. Epub 2020 Feb 6. PMID: 31942801.