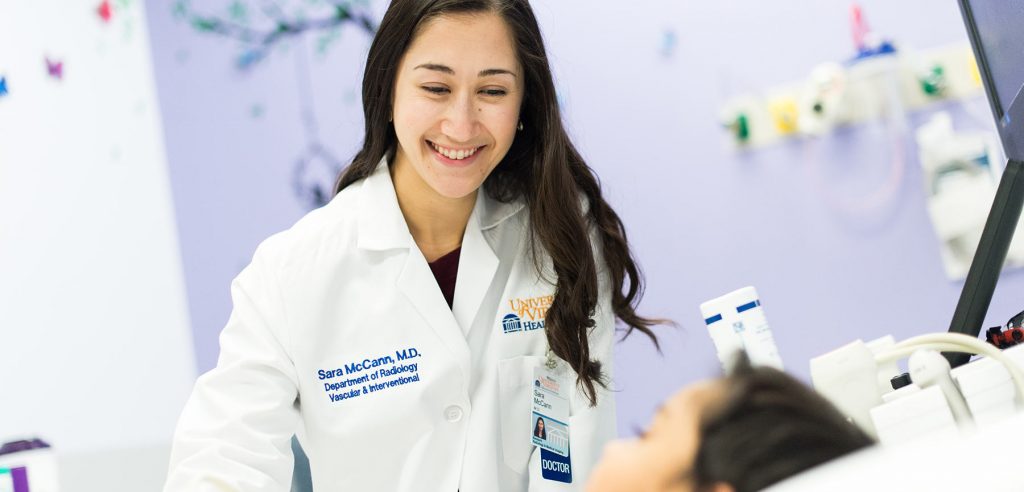 Radiology and Medical Imaging Residency Programs at UVA
The UVA Department of Radiology and Medical Imaging offers two residency programs:  A four-year ACGME-accredited program in Diagnostic Radiology—one of the most diverse disciplines in the field of medicine; and a six-year Interventional Radiology (integrated) program. Our residency programs are considered two of the best in the country and admission is highly competitive for the resident positions available each year. There are eight positions available in the diagnostic program; one position is reserved for those interested in a dedicated research training experience. Three positions are available for applicants who want to pursue a career in Vascular and Interventional Radiology (VIR).
All are Welcome
We are committed to creating a learning environment where respect and tolerance prevail. We value differences in background, origin, ethnicity, gender, gender identity, age and beliefs in our residents and faculty, and consider them of highest importance in the creation of a space where we can learn from each other. Aligned with the mission of our institution, the Department of Radiology and Medical Imaging fosters an atmosphere of tolerance and free exchange of ideas, where we are personally and professionally enriched by our differences. Reflected in our multicultural house staff is our belief that diversity allows us to provide the highest standards of quality care to our patients.
We are fortunate to live in an equally inclusive community, which stands for respect of ideas regardless of their origin; home to a multicultural community, Charlottesville is a national example of strength and unity at times of adversity, and a place where we all feel safe and welcomed.
Read about a day in the life of our Residents
Ever wonder what your day might look like during your residency program? Read about a day in the life of diagnostic radiology resident Dr. Connor Louden or a day in the life of IR resident Dr. Christian Salinas:

---

Services Provided
The UVA Health System includes a 604-bed hospital, level I trauma center, NCI-designated cancer center, nationally recognized cancer, heart and urology programs and specialty clinics throughout Central Virginia. Imaging services are available at the main University Hospital, Hospital West, the new Children's Hospital, NCI-designated UVA Cancer Center, Diagnostic Imaging Centers at Fontaine Research Park and Northridge Transitional Care Facility, Charlottesville Breast Care Center, Orange County Diagnostic and Mammography Center, UVA Imaging Zion Crossroads, and our mobile mammography coach.
With significant investment in technology, the Department of Radiology and Medical Imaging employs some of the most modern and innovative radiographic and imaging technology available. We are heavily engaged in the clinical use and development of computerized tomography, ultrasound, magnetic resonance imaging, nuclear medicine and vascular and interventional radiology. Over the past year, our department performed more than 222,500 plain films; 56,000 CT scans; 41,000 ultrasound exams; 35,000 MRI scans; 26,000 breast imaging exams; 3,300 interventional radiology procedures; and approximately 70,000 other imaging exams/or procedures.
Research
UVA's Department of Radiology and Medical Imaging has an outstanding research infrastructure and strongly supports active resident participation in research. While broad in scope, our Medical Imaging Research Division has particular strengths in cardiovascular imaging, neuroscience imaging, lung imaging, MRI pulse sequence development, and small animal imaging. One resident per year is accepted into the Radiology Research Residency, and our diagnostic and IR track residents participate in research during their time in residency as well; some join ongoing research projects, while others initiate their own projects. Many residents present their work at national meetings and a competitive internal funding program is in place for radiology trainees to financially support resident research.
---

Residents
From medical schools and institutions around the country, and even around the world, ten trainees per year gather in Charlottesville to begin their 4-year journey as residents in our department. Some attended Medical School at UVA and nearly 90% of our resident graduates typically stay at UVA for Fellowship or Instructor Training.
While a significant amount of time is spent in and around the hospital, a resident's life is certainly not limited to the confines of the clinical setting. Camaraderie extends well beyond the reading room, as many of our residents take full advantage of the considerable number of extracurricular activities available in the area. With such a large group—40 residents total—it's easy to find others who might want to get together for a run or a bike ride, perhaps grab some local fare and drink at a nearby brewery, and then catch a free outdoor concert at the historic downtown pedestrian mall.
---
Charlottesville, Virginia
Welcome to Charlottesville, the city we love.
The University of Virginia is located in Charlottesville, VA, within Albemarle County, an area comprised of a thriving population of over 150,000 residents. Approximately 110 miles southwest of Washington DC, and 70 miles west of Richmond, this nationally recognized and award-winning city is nestled in the foothills of the scenic Blue Ridge Mountains.
Affectionately known as "C'ville," the region is home to an abundance of cultural, historical, and recreational activities. The strikingly scenic region boasts a highly educated workforce, excellent school systems, high quality health care, and affordable living. Residents pride themselves on our local heritage and strong history of tradition along with the area's natural beauty and an abundance of diverse year-round happenings.